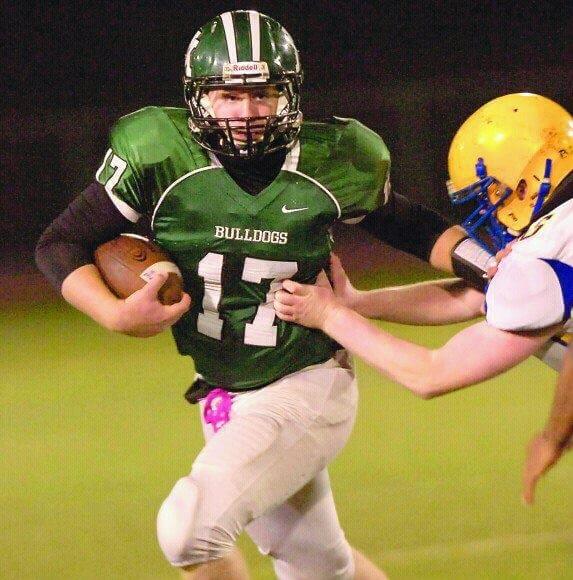 One of the top QB's in the State of Washington is a kid that is still somewhat under the radar, but that could change shortly. Bennett Gibson (6-2 210 Sr.) is an athlete that you want leading your team. He's got size, legit arm strength, and elusiveness that he displayed well last Friday when his Bulldogs nearly up ended #8 Oak Harbor.
We currently have him ranked #7 on our NEI board among top QB's for the 2013 class. The first six kids currently hold offers, so to say that he is on that scholarship bubble would be accurate. Through 5 games Gibson had thrown 9 Tds/5 Int's hitting on 61.3% of his passes for 1370 yards. More impressive was his ability to get out of trouble when in the pocket and still make accurate throws. More then once he found a couple of his targets after avoiding sacks.
"My teammates have been great, and I feel very confident in my receivers" Gibson said. The Bulldogs currently sit at (1-5), but do not immolate that type of record. They looked to be in control Friday night until a few mistakes paved the way for the Oak Harbor win. " All of my wide outs are big and extremely athletic, and you will never see them taking plays off". He continued, " they always run crisp routes and know how to block so that is definitely a strong point".
Melvin Walser (6-3 180 Jr. WR/S) is a kid we really like and is ranked on our top junior list. Through four ball games Walser had caught 28 passes for 468 yards and 5 Tds, making him one of the state leaders in multiple categories. Three of the top Bulldog receivers are basketball kids showing off their overall athleticism and height. Miles Witt (6-3 180 Jr.) 11 rec, 110 yards and Matt Bennett (6-3 185 Sr.) 28 rec, 361 yards, and a TD were two of the other kids that have stood out on the season. Witt's another very talented junior, and Bennett equally as good but looks to have gone down for the season with a knee injury.
The best thing about Bennett is what you don't see on paper. Doing the broadcast Friday night I came away very impressed with his performance, simply do to some of his intangibles. He never played youth ball and was a soccer kid most of his life, with his Freshman season being his first time on the football field. He has a 3.4 GPA and also plays baseball with his ultimate goal being to earn a college football scholarship. " I would like to earn an offer and just be able to go and compete and show what I can do", Bennett said.
After Friday's performance I would sign off on his skills, as I think his upside is through the roof. Former assistant and first year head coach Jay Silver has done a great job helping him prepare, and we can't stress enough this is not anywhere close to your typical (1-5) team. I think Gibson's career is just getting started, and we look forward to seeing what the kid can do in the coming weeks.