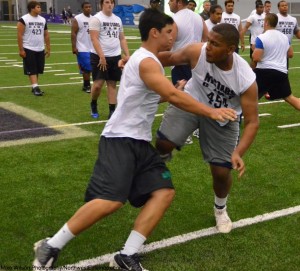 One of Oregon's top underclassmen out of Sheldon HS in Eugene is Liam Talty (6-4 215 Jr. DE). The kid showed up at our elite events last off season in Portland and never looked back. At that time people didn't really know who he was, but he changed that quickly.
This past season the Sheldon Irish won the 2012 state title, and Talty played a huge role. He ranks as one of the state's top D lineman for the 2014 class and just continues to get better. Everywhere we go people keep asking, "who is that"? His overall athletic ability stands out more then anything, as he does things that most D ends don't even attempt.
He was second on the team with 90+ tackles and led the team in INT's with 4, while adding 3 sacks. Liam's an outstanding student with a 3.97 GPA taking AP classes, so high end academic institutions could be all over him with his combination of football ability and smarts.
Referencing the state title Talty says, " It was an amazing experience, and it still seems unreal… It was something that I had dreamed about since moving here in the 7th grade".
Sheldon is 52-2 over the last 5 seasons with 3 state title appearances and two state championships. It's hands down one of the most successful and classy programs in America, and they continue to be a factory of success.
Liam says, " I wanted to do everything I could over the off season to get better for my team… Going to the Barton Elite Events allowed me to see the state's best, and gauge what I had to do to improve and compete with them".
Talty is kind of a silent assassin. His domination on the football field doesn't always match his polite and proper demeanor. He is one of the nicest kids you will ever meet off the field, but doesn't take kindly to whoever's in his way. He may use his hands as well as any D lineman in the state, this being his most unique characteristic.
"I'm going to be working really hard at Sheldon during off season workouts, and trying to gain some weight…My goals are to just continue to get bigger and do everything I can to help my team be successful next year".
Liam's a phenomenal kid with a ridiculously bright future on and off the field. Sheldon returns another talented cast of athletes and will once again be very good next season. Things will be different without one of the best players in state history in Connor Strahm, but they will once again be one of Oregon's best with the likes of Talty.