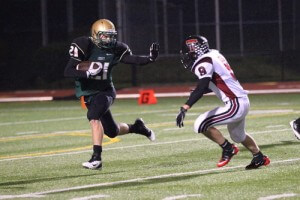 Coming into 2013 one of Oregon's top dual threat, multi sport athletes is Trent Werner (6-1 190 Jr. ATH/S) of Jesuit. He is hands down one of the best overall skill players in the state, but is sometimes overshadowed by some of the other high profile talent at the high school.
Junior teammates Joey Alfieri (6-3 220 Jr. FB/LB) and Henry Mondeaux (6-5 245 Jr. TE/LB) both received Oregon St offers over the last month, and are ranked as two of the state's top four overall players. Both kids are very deserving, and Werner is a freaky athlete himself. He is an equally talented baseball player, and will be a three year varsity starter in both sports, something very tough to do at Jesuit and in the Metro League in general.
Werner ranks in the top 5 both offensively and defensively for his position on our NEI boards, covering the entire state of Oregon for the 2014 class. He has played a strong safety/backer type position, and was also one of the league leaders in receiving yards and Tds. He was an all conference kid on both sides of the ball in 2012, but that doesn't even do him justice.
Trent says, " I'm already starting to put in the work for next year, and I feel like we came up short of our goals as most people do on our team". He continued, " I have baseball coming up and want to earn a D1 scholarship, with football being my priority and baseball being a close second".
I noticed Trent as a sophomore, as he wasn't afraid to come up and stick someone even at an early age. Not being the prototypical skill kid in the northwest can sometimes make it very difficult to be recruited, but Werner is one of the very few that I would put in that elite category of D1 potential kids.
He will have to have a monster off season, as we look forward to seeing him at our elite events with the other top athletes from around the region. His god given ability speaks for itself, but Trent isn't satisfied with just being good. " Our goals for next season include winning Metro and then state, and we won't be satisfied with anything less… I see myself as more of a safety in college but I am willing to play anywhere".
Regardless of where he ends up playing Trent's a kid that is athletically just better than most. Oregon top linebacker Alfieri says, " Trent is one of the most versatile kids anywhere, he played mostly outside backer last year and did a great job at safety when AJ Glass got hurt". He continued, "Offensively he did a phenomenal job at slot receiver, not only getting past corners and catching deep balls but also blocking for our run game… wherever you put Trent he will excel".
We will continue to keep you updated on Werner and all of the Crusaders as they could potentially be NEI's #1 ranked team coming into 2013.