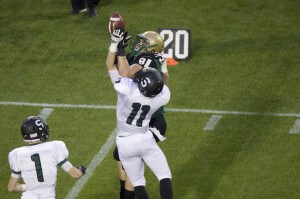 Lets just get this out of the way early and reiterate that Kellen Strahm (6-0 165 So. ATH/DB) is the brother of 2012 Oregon Player of the Year Connor Strahm (6-2 215 Sr.). Sheldon (14-0) just won the Class 6A state title, and the oldest Strahm will go down as one of the best players in state history.
The magical run that took place this season saw Kellen be the only sophomore starter on a team littered with college talent. The youngster played more and more as the year progressed, accumulating 30 tackles and 2 Int's with a pick 6 to the house against Southridge in the season opener.
Referencing his brother Connor says, "I think he proved to everyone what he can do even while being so young, but he will be the first to tell you that he has a lot to improve on". He continued, "Starting on a Class 6A championship team is a huge accomplishment that nobody else in the state can say, and if I know him like I think I do he will work as hard as he can to get better and put the team first".
Connor went for over 5000 all purpose yards and 65 TDs over the last 3 years, shattering records on both sides of the ball as the State's Defensive Player of the Year. Kellen will be playing more offense next season, as they were loaded at all of the skill positions this year. You can expect him to be playing the slot position much like his brother, where he dominated throughout youth ball.
"He will have to be more a part of the offense next season, and I think he will do well", Connor says. During the state championship Kellen made multiple clutch tackles, coming up and laying some hat without hesitation. He gained valuable experience this year, and now has a barometer for what a state title team looks like.
We have Kellen ranked as one of our top 3 Slots and DB's in Oregon, making him one of the featured sophomores in the state on our NEI ranking boards. He comes from a very athletic family with an awesome support system, and much like his brother should thrive in Lane and Marty Johnson's program.
Expect to see Kellen be one of the state's top DB's and overall skill kids at our Elite Events during the off season. He's an outstanding young athlete and even better kid. Connor Says, "I'm very proud of him!!"