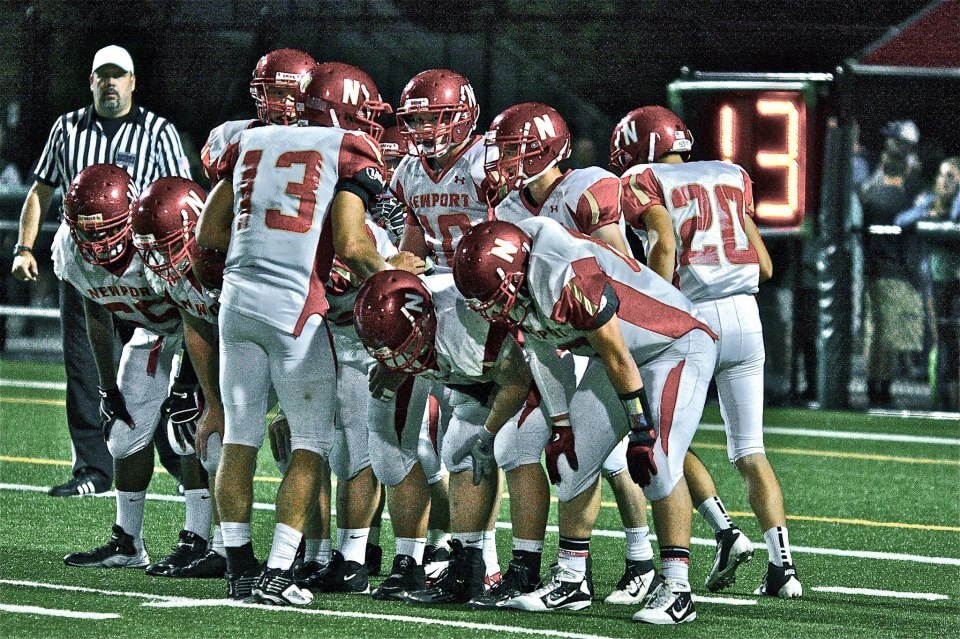 Highlight Videos:
When you hear about Bellevue, Washington one of the first things that comes to mind is the nation's top football team in the Wolverines out of Bellevue HS. Everyone in the northwest should be proud to have the best football team in America in our own backyard.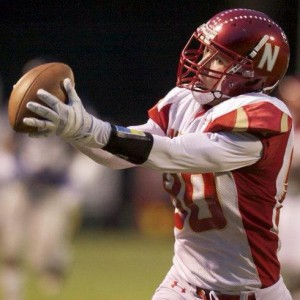 That said, don't sleep on the Newport Knights (7-4) out of Bellevue in 2013, even with the graduation of Nevada commit and all everything athlete Isaac Dotson. They bring back a host of talent and have the community support to feed off an impressive season 2012 season, where their only losses were to some of the state's best. Skyline, Capital, and Mead were three of the state's top teams that handed the Knights 3 of their 4 losses on the season.
Offensively Newport will have to make up for all of the firepower that Dotson brought to the table. His running ability alone made the Knights a threat to beat anyone on any given night, and that will have to be accounted for. 1st team all league Junior's Conner Baumann (6-2 215 Jr. RB) and Drew Sample (6-5 235 Jr. TE) return after outstanding seasons. Both kids are ranked on our boards with Sample being the state's top TE, and Baumann being one of the fastest rising backs in the state.
Sample tied for the team lead in receptions with 12, and lead the team in receiving yards (218) and rec Tds (5) with a primarily run oriented offense. Drew's size and overall athleticism make him one of the most intriguing prospects in Washington, as he is a kid that can beat you a variety of ways.
He says, "I thought our season went well, and we had a lot of senior leaders that helped bring us together and lead us to the playoffs". Sample continued, "next year we want to get back to state and get as far as we can, personally I just want to keep getting better and helping my team out however I can".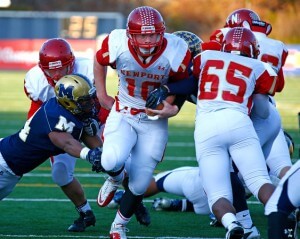 Baumann showed up on the scene and absolutely killed it this past season, rushing for 1, 338 yards and 14 Td's averaging over 10 yards per carry. He is listed as a fullback, but has legit speed along with size. Conner is pushing 6-3 and passes the eye test at first glance, so his future is extremely bright much like Drew. Conner says, "Last season was a successful one making it past the first round of state, with a huge win against Skyview… everyone made it to off season weight lifting and training and it definitely showed".
Conner added, "Our motto for the year was 'Finish' – Finish strong in all that we do. I am proud we accomplished that goal as a team… Everything in the Newport program is about doing things for the team."
Other guys to watch offensively will be sophomore RB Paul Wells (5-9 150) who rushed 42 times for 358 yards and 4 Tds, and junior WR Brian Setijono (5-5 150) who did a little of everything carrying the ball 72 times for 348 yards and 4 tds, while hauling in 12 passes for 209 yards and 3 touchdowns. First team all league center Nolan Anderson (6-0 240 Jr.) will also return.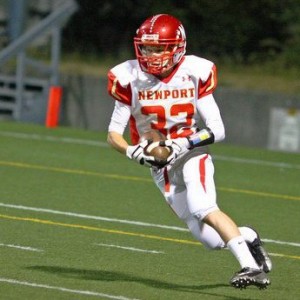 Defensively the Knights also bring a lot to the table, with three returning all league kids leading the way. Bennett Long (6-1 230 Jr. DE) is an undersized D lineman that earned 1st team all league honors, recording 7 sacks and 49 total tackles. This was complimented by one of the state's top sophomore standouts in Calvin Throckmorton (6-5 245 DL), who played as a freshman and earned 2nd team all league honors this season. Throckmorton ranks as one of the top D lineman in the state of Washington for the 2015 class and will require constant double teams next year.
Add in 2nd team all league DB Tariq Muhammad (6-0 205 Jr. DB) , Chris Halamek (6-0 210 So. LB) 31 total tackles, 4.5 sacks, and Ramon Galvan (5-8 165 Jr. DB) and you have three additional skill kids that return with experience. Sophomore RB Paul Wells was also an outstanding DB and added 3 Int's, 7 pass deflections and 3 fumble recoveries on the year.
In summary Newport does lose a major talent and one of the schools all time greats in Dotson, but don't sleep on the kids they have returning. Head Coach Mike Miller has done a phenomenal job preparing this group to compete year in and year out in the state's toughest conference. He runs a class program as referenced by his players time and time again. Baumann says, "Goals for the team are to go further than we did last season, and keep up our level of sportsmanship and academics… we have a lot of young talent and I am excited to see what our team can do".
The talent they bring back will rival some of the other top teams in the state, and we look forward to seeing a host of these kids at our elite events during the off season. We will continue to bring you news at it happens on this outstanding program out of Bellevue.