Nick Mitchell Highlight Video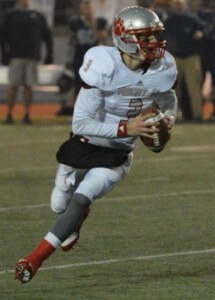 Keeping you updated on the top players from around the State of Washington, we take a look at high profile Jr QB Nick Mitchell (6-2 180) out of Mount Si. Mitchell went off in 2012 helping his team to a (11-2) record, with both losses coming to the best team in America in Bellevue.
The Wildcats produced their best team in school history, in what amounted to 20+ school records being broken. Behind all of this was a ridiculously talented group of seniors, and the junior standout at quarterback. Mitchell finished with 33 TD passes, with 16 of them coming in the playoffs. He improved every week bumping his completion percentage up from 50% mid way through, to 62% by season's end
We have talked about Nick's D1 genes as his brother Josh was a standout football player at Mt Si, and is now on full scholarship at Oregon St. The Wildcats lose a ton of talent going into next season, so Nick will be tested to lead with some different play makers. Mitchell says, "we have a lot to prove next year losing quite a few starters, but I feel really good about my guys coming back". Nick continued, "I'm going to be throwing a lot and not taking any days off preparing for next season".
Junior Trevor Daniels was kind of the 5th man in a 4 man WR rotation so he got some good playing time, and Jake Smith is another junior that will see the field a lot next year. Beau Shain (6-2 190 Jr.) is a linebacker that we really like and he will also get time at TE.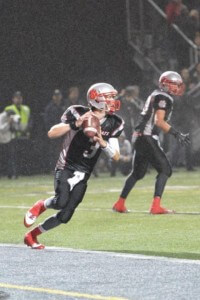 Two current freshman that are pretty freaky are 6 foot 4 Parker Dumas who was dunking in the 8th grade, and Mark Farmer (6-0 180 Fr.) who is another standout. All of these kids including Sean Hyland (5-10 165 So. WR/DB), should be big contributors at the skill positions on next year's Wildcat roster.
Mitchell will be ranked as the state's top QB for the 2014 class with Pierre LeDorze of O'Dea, Reilly Hennessey of Camas, and Dillon Sugg of Wenatchee right on his heels.
He was a 1st team all league athlete this past season and has already heard from a variety of D1's including Oregon State, Arizona State, Utah and most recently Washington State and Eastern Washington. As we have talked about previously Mitchell is just a really good kid sporting a 3.63 GPA. When referencing the state semi-final against the nation's top team Nick says, " its rare to play a team with no weaknesses, but Bellevue is as close as it comes with D1 kids at every position on defense".
Next year will be completely different, and Mitchell will be tested with the loss of so many weapons to graduation. If he is able to direct Mount Si to a similar season in 2012 there will be little doubt as to how it happened. Nick has a great family structure and very athletic background, with his other two brothers also being stand out athletes.
We look forward to seeing Mitchell at our elite events with the other top athletes from around the region over the off season. Nick projects as a D1 kid, and he will get every opportunity to prove that once again in 2013.