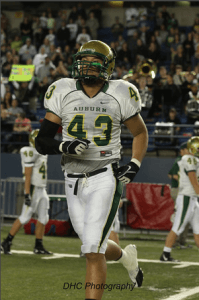 A name recruitniks might recognize is Auburn DE/LB Kevin Shelton. Heading into the 2012 football season, the senior was expected to help lead the Trojans back to prominence and he, along with several other senior stalwarts on the roster, did that in a big way, leading them all the way to the state 4A semi-finals.
Shelton's size, speed and athleticism, to go along with his pedigree (his brother Danny is a starter at the University of Washington), has garnered him a lot of attention from college coaches and he's got some official visits planned to the schools who have shown him the most interest.
"I've got offers from a few schools, but the ones I'm focusing on right now are Idaho, Northern Colorado and Wyoming," Shelton told Northwest Elite Index over his holiday break. "I'm visiting Idaho on January 11th, Northern Colorado on the 18th and Wyoming on the 25th and I might take a visit to another school, but I'm not totally sure on that right now."
As a stand-up defensive end, Shelton was a menace to Trojan opponents most of the season, totaling 70 tackles and 12 sacks while being named All-SPSL for his efforts.
"I felt like I had a pretty good season individually and we had a great season as a team, so that was pretty fun to go out that way," Shelton said. "We obviously wanted to win state, but we weren't very good when I was a junior, so we came back and played Trojans football and it was fun to get us back to where we think we should be."
"Kevin had a great season for us and we asked him to do a lot of things," Auburn head coach Gordon Elliot said following the season. "He's a really great kid. He isn't real vocal, but he leads by example and when he speaks up, guys listen to him."
We will continue to keep track of Shelton's progress over the next four weeks and we will update news as it happens with him.