Sione Taumoe'anga Highlight Video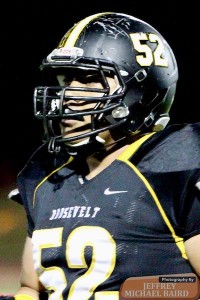 One of the top teams in the State of Oregon at the 5A level will be the Roosevelt Roughriders out of the PIL next season. Head Coach Christian Swain has done a great job getting everyone to buy in, and now they are reaping the rewards. Next year's group has the potential of being the best team in school history, and maybe the best player of the bunch is state sack leader Sione Taumoe'anga (6-2 290 Jr. DL/OL).
Sophomore quarterback Kimane Domena will be a high profile athlete as well, already receiving an offer from BYU, but Sione is a kid that we can't say enough good things about. He dominated up front all season long, leading the State of Oregon in sacks (13.5) at the 5a level and adding 108 total tackles. Taumoe'anga was a 1st team all league kid as a freshman, something very rare at any level. He has just continued to get better, and football aside is just one of the best kids you will ever meet.
Sione says, " I think we did a really good job this past season, with mostly inexperienced kids starting on Varsity". He continued, "we didn't completely meet our goals, but I think we learned a lot of good things that we will be able to use coming into next year". Roosevelt will come in ranked as one of the state's top 10 teams next season which hasn't happened in a long time. They are loaded at the skill positions and also feature Semise Kofe, another one of the state's top D lineman.
Sione who goes by "Junior" added, "our first goal next season as the team captain is to have my team on the OSAA Honor Roll list… Personally and for all of our coaches academics always come first, and reaching that goal as a team would mean more to me then a championship". I think this in itself speaks to how far the program has come from within. When you have your team leader, and one of Oregon's best preaching this type of message good things typically happen.
Junior continued, " We obviously want to win a 5A title, but its going to take a lot of hard work over the off season and I think me and my teammates are committed. Sione was part of Team Oregon that just traveled with us to Washington for the week, beating Team Alaska 40-29 in the recent All Star game.
Most of our Elite Events take place on Sunday which has made it tough for Junior to get out as much as he wants always putting God first. Sione has received interest from BYU and is someone that we consider at least a D1AA athlete. He is a kid we have ranked as one of the top 5 D lineman in the State of Oregon, and getting to know him over the past few days makes you only appreciate what a good kid that he is.
We will keep you updated on all of his recruiting moving forward, as he is someone we expect to see earn a scholarship at the D1 level.