Max Reyes Highlight Video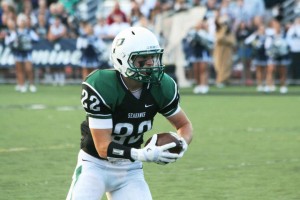 If there was a comeback player of the year award in Washington, this year I would give it to senior WR/DB Max Reyes (5-10 180) of Peninsula. After losing his Jr season to injury, Reyes helped lead the Peninsula Seahawks to one of the best seasons in school history.
As a Sophomore, Reyes was part of a Seahawks squad that finished with a 5-5 record, but the writing was on the wall for big things. He was awarded with a 1st Team All-SPSL as a Returner on Special Teams.
Things were looking up during the offseason of 2011. Reyes was expected to play a big role as a Junior, but an injury during a July camp would end his season before it started. Speaking to NEI Reyes described the injury, "I was playing safety and was deep with the WRs. The QB started to scramble and ended up running for about 15 yards, while I was making the tackle my right leg was planted and just gave out."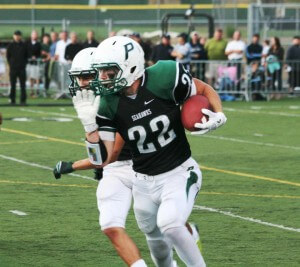 The final result was a torn ACL. "I had surgery in August and then started PT about a week later. I was running after about 3 months, but had to miss basketball season," Reyes said. "I made it back for track but my speed wasn't back yet. Got back to full speed over summer during off season work outs."
This season didn't get started the way the Seahawks had hoped. They lost in week one to a very good Bellarmine Prep team, beat rival Gig Harbor before losing to Union (Vancouver) the following week. Reyes said, "We knew we were a much better team than how we had been playing. As the year progressed we became more in sync and everyone knew their role for the team."
Right then and there the Seahawks got hot. They won their next 8 games, only allowing double digits twice and never allowing more than 13 points. During that stretch they outscored their opponents 344-39.
In week 9 they got a chance to play what amounted to be a league championship game. The SPSL does not have a league championship game, but both Lakes and Peninsula rolled into the final game undefeated in league play. The winner would get a home game the following week, while the loser would have to go on the road.
"The league title game was something special for us all! It was the first time we have beaten Lakes". Reyes continued, "The week of the game the coaches had a talk with the Best of the rest players (those who aren't starting) and told them they were going to play a huge role in our prep for the game. And they did!"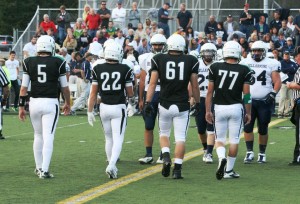 The final result was a 30-7 win over the Lancers and a home date the next week vs an Oak Harbor team that had been highly rated all season, but stumbled the final two weeks and ended up being the 4 seed out of Wesco. The Seahawks would win two playoff games before bowing out to the eventual state champion and #1 team in the country Bellevue Wolverines in the quarterfinal round.
While watching their game against Bellevue I came away very impressed. Peninsula is a school we should've had ranked throughout the season. After the loss they did something I have never seen before. Reyes said, "After every final game of the year we have what's called a senior salute, all the coaches and underclass men walk through a line of seniors and say there goodbyes."
The season was definitely a success for Reyes who finished the season with 50 total tackles, 6 INTs, 2 Fumble Recoveries and a defensive TD. The SPSL coaches recognized him as a 1st Team DB and the co-Defensive Back of the Year.
Reyes finishes his Peninsula career as a 3 year varsity letter and scholar athlete while also playing basketball and running track (11.6 100yd). He currently sports a 3.52 GPA and is a member of the National Honor Society. Reyes is the perfection definition of a student athlete.
In closing, I would like to say that I have been around a lot of football teams, but rarely around one that truly is a brotherhood. This years slogan at Peninsula was "11 as 1" and there might not have been a team in the state that better exemplified that slogan.