Jonah Koski Highlight Video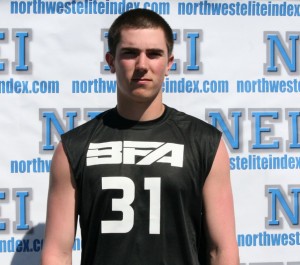 The best thing about what we do is that we get to meet some really good people during any given season. The Koski's are a phenomenal family that Taylor Barton and myself can't say enough things about. Johah (6-3 200 Sr. QB) is one of the top multi sport kids in the state, and recently shined representing Team Oregon throwing for over 300 yards and 4 Td's against a very talented Alaska squad.
Oregon got the 40-29 win as Koski hit Oregon top Sr. wide receiver Deshawn Stephens (6-4 190 Sr) for 2 second half scores, and also found standout wide receiver Forrest Russell (5-7 150 Sr.) of Skyview for 2 long Td's in the 1st half. All of this was justification after a tough 2012 season at Bend where the Lava Bears finished (3-6). They did play maybe the toughest schedule in the state at the 5a level, but it was not what they were expecting.
Jonah says, "The season was disappointing to say the least as I worked extremely hard in the off season and came into this year with high expectations… We were young to begin with having no returning receivers and only one returning starter on the line, and unfortunately we faced a lot of adversity". Koski continued, " Our last few games we were missing 11 starters to injury, illness and being ineligible". He continued, " Having said all of this, I am so incredibly proud of my teammates, they never quit fighting and we never turned on each other and just continued to lend one another support".
Koski was a 1st team all league QB throwing 15 Tds/6 Ints for 1,451 yards. His all conference honors represented what the coaches in the league thought of him, even with an undefeated Redmond group and a returning 5A state champion in Mt View to deal with.
Jonah added, "My dad always says it is not our successes but how we respond to our failures that shape the man that we are becoming… I hoped for more this season but I feel I am a better quarterback, better leader and a better person".
Koski has received a preferred walk on invitation to Oregon and continues to talk with school's at all levels. The best thing about Jonah is that his upside is off the charts. He showed what he was able to do against elite competition picking apart Alaska, even with the refs doing everything but suiting up for them. He is pushing 6-4 and has been an All state baseball player for the past few seasons, showing off his overall athletic ability. His 4.0 GPA speaks to his focus in the classroom and he is lucky to have some incredible family support with his father Steve being a local pastor.
Jonah is a kid that will have options moving forward as the recruiting process begins to play itself out. He is ranked as one of our top 3 QB's state wide for the 2013 class and is only getting better. All of the kids that played with Koski last week can speak to his overall skill level and demeanor, and would agree that regardless of where he ends up at the next level he will be successful on and off the field.