Gavin Hettinger Highlight Video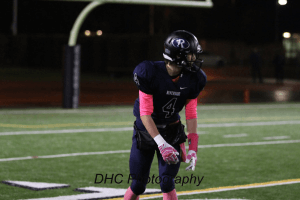 With all the great talent in the 2015 class, a player flying under the radar right now is WR/DB Gavin Hettinger (5-10 165) of Auburn Riverside. Hettinger has the ability to play both sides of the ball as well as returning kicks.
Riverside isn't exactly known as a big time football school and winning isn't something that has come easy for the Ravens, but they have produced NFL talent. TE David Paulson (Oregon Ducks, Pittsburgh Steelers) and WR Max Komar (Idaho Vandals, Arizona Cardinals-Chicago Bears) both played at Auburn Riverside in the mid 2000's yet wins have still been hard to come by.
Starting this past weekend Hettinger began work in the Barton Football Academy Elite Training sessions and certainly didn't disappoint. Multiple times Hettinger made plays on balls he had almost no business making, including what was probably the catch of the day… Click here to view the catch . Not many kids will sacrifice their body on basketball courts and Hettinger did it on a few separate occasions.
Hard work is something Hettinger is accustomed to and he knows that offseason work is something he needs to improve his game. "I want to get better footwork, better routes and faster our of my breaks". Hettinger continues, "Kevin (Thomson) and I throw every Tuesday and Thursday."
The work ethic does not stop on the football field for Hettinger. He also plays baseball and should be suiting up on the varsity team this season. In the classroom he is just as good as he is a 3.5 GPA student.
He projects to the offensive side of the ball and when our 2015 rankings are finalized, you can bet his name will be in the top 10 for his position. Where that position is could be up for debate. Right now he plays for more of an outside receiver spot, but might be of more value in the slot. "I like wide receiver but I am a bit undersized so I probably would play more in the slot" Hettinger said.
The Ravens had a rough season last year, but there is definitely writing on the wall for a solid year in 2013 and Hettinger will be a big part of that. Another big returning piece will be senior QB Kevin Thomson (6-3 190). Thomson completed close to 60% of his passes last season and was also the teams leading rusher.
Thomson has also been invited to and is attending BFA Elite Events and an offseason working with coach Taylor Barton should vastly improve all aspects of his game. Watching the improvement of these two kids is something I really look forward to as both have limitless potential.