Sam Riddle Highlight Video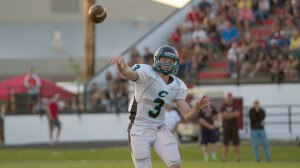 Oregon top senior Quarterback Sam Riddle (6-2 200) out of Century high school took his official visit to North Dakota this weekend, and it turned out to be the place he was looking for. Speaking to Riddle from Grand Forks while still on his trip Sam said, " Its all kind of surreal right now, I think it might set in a little more on the 3 hour flight home". He continued, "everything unfolded in the last few weeks, and when I got out here I met some great people and had a really good time and it just felt right".
Riddle was the Pacific Conference Offensive Player of the Year throwing for a state leading 37 Tds and 3,609 yards, hitting on 55.8% of his passes. He also rushed for 537 yards and 6 Tds, showing off an overall athleticism that helped him get the D1-AA offer.
The Fighting Sioux of North Dakota are a Big Sky Conference team that gets the luxury of playing in a dome. He will end up playing against his hometown Portland State Vikings. "They took me to a hockey game and it was sweet, I had never been to a hockey game before. "
Sam was a kid that we have gotten to know well over the last few seasons, as he has trained at the academy and is someone that Taylor Barton speaks highly of. "Sam's a kid that has really put in the work and is the type of athlete that you root for", Barton says.
Head Coach Chris Mussman has done an outstanding job of getting into the northwest as of late and offering athletes. Riddle was the 1st QB out of Oregon offered in the last two years by a D1 university.
Riddle led the Jaguars to an (8-4) season, in what ended up being the best team in school history. Sam's a kid we can't say enough good things about, and we look forward to watching him continue his career at one of the top up and coming FCS schools in the country.