Mitch Fettig Highlight Video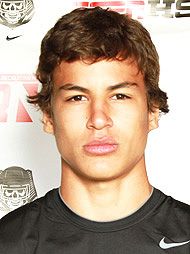 As we begin our Elite Event season there are always athletes that step up, and show that they deserve to be in the conversation with the northwest best. One kid that did just that at Portland Elite on Sunday was Mitch Fettig (6-0 170 Jr. DB/ATH) out of Olympia. There were nearly 70 kids in attendance, and he was one of the most impressive athletes of the group.
His ability to cut and leap was eye catching and instantly had me saying, who is this kid? Fettig was a 1st team all league and all area DB as a junior, with 67 tackles and a team leading (5) Int's. Olympia had a rough year going (4-7) after losing a majority of their starters from 2011′, but Fettig was a huge bright spot.
He can return kicks, punts and is equally dangerous on the offensive side of the ball. He caught 28 passes for 313 yards and 3 Tds, and also rushed 24 times for 112 yds.
The Bears were better then their record indicated, as they lost in the playoffs 41-38 to an Auburn team that made it to the state semi's. They started the year (0-4) but finished strong going (4-2) in league. Olympia had gone (26-6) in their last 3 seasons prior to 2012 under head coach Bill Beattie, making them one of Washington's better teams. Kids like Fettig are the reason that the Bears have as much potential as they do
Mitch is a 3.6 student and a quality kid first and foremost. He says, " The Portland Elite group was a great experience, and it helped better me for the season ahead with all of the top competition there". He continued, "I plan on being all state next year and winning a state title with my team, my dream is to be an all american and I'm going to do whatever it takes to fulfill that".
Regardless of what he does moving forward, Fettig is a legit DB. He will be added to our rankings board as one of the top defensive backs in the state of Washington when we release the new updated positional rankings this week. Congrats to Mitch on a phenomenal elite event, he has a lot to be excited about moving forward.