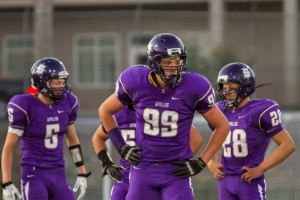 The Faustin Riley led Sunset Apollos are looking to do big things in 2013, and they just so happen to have two of the top skill players at their positions state wide. Sunset went (6-5) this past season with a record that was somewhat deceiving as they play in the always tough Metro league. They dropped two games by a TD to top ranked Jesuit and Southridge, and battled Central Catholic before falling 35-21 in the second round of the playoffs.
Josh Brown (6-6 240 Jr. DE/TE) comes back as one of the top ranked juniors in the state on both sides of the ball. He was a tear on defense earning 1st team all league honors from his D end position, also racking up 3rd team honors at Tight End. One of the state's top sophomore QB's, Willy Pflug (5-11 175) had some very good things to say about his teammate.
"Josh is a big target and gets a lot of yards after the catch, and he's a great blocker which also helped our run game". He continued, "He's always in the weightroom, and I look forward to getting him the ball a lot more next year"
We had the luxury of seeing Brown at our elite event this past weekend and he looked the part. He has improved his speed a great deal, and has become much more comfortable with his 6-6 frame. He projects at the D1 level and is a kid that we really like moving forward.
On the outside one of the state's top ranked junior receivers, Jeff Bieber (6-4 190 Jr.), is someone that I personally think very highly of. He dealt with some injuries last season, but the Apollos had the luxury of having two other talented wide outs in Ryan Hendry and Trevor Caldwell. Bieber has size, and has dominated opponents his own age for most of his career.
Pflug says, " Jeff is that guy that just makes you look good, I just have to get the ball in his area code and he will go up and get it". Willy added, " he missed a couple games with his knee, but he got his bounce back near the end of the season which helped us out a lot".
The Apollos will have the good fortune of having two very talented QB's in 2nd team all Metro returner Plug, and a highly intelligent signal caller in Clayton Welsh (6-2 175 Jr. QB). Welsh was originally at Central Catholic but made the transfer back to Sunset. He has done very well for himself all through youth ball and early in his HS career, giving the Apollos two outstanding quarterbacks.
Head coach Riley is as good as they come both as a coach and a man. Both Taylor Barton and myself had the pleasure of playing for him back in the day as Taylor says, " I love the man, he's a great coach and an even better human being".
We are excited to see what Sunset can do in the always tough Metro League next year, and we will continue to bring you updates over the off season as all four of these athletes excelled at our elite event last weekend.