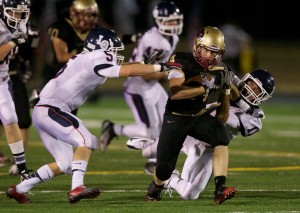 A few years ago Devin Martinez (5-8 190 Jr. RB) showed up at Southridge high school as a sophomore and did something very few people do right away. He dominated Metro league competition as a 10th grader, earning 1st team all league honors in the toughest conference in the state.
Martinez moved from Hesperia, California where he had a very successful freshman year in a town outside of Rancho Cucamonga. The power he brings to the table for a small back is incredible.
Devin has been part of back to back Metro League title teams, as the Skyhawks have up ended the likes of Jesuit and Aloha the past few seasons. Martinez was a third team all league kid this past year dealing with injuries and splitting time with another one of the state's top backs in Jake Pruit (6-3 215 Jr. RB/LB). We have Martinez ranked as one of the top 4 backs in Oregon, as he will be a candidate to the lead the state in rushing at the 6A level.
The Skyhawks will be back and even better in 2013 with the likes of the state's top ranked WR in Jordan Morgan (6-2 195 Jr. WR) , and an experienced QB in AJ Woodin (5-11 190 Jr. QB). Woodin was leading the Metro in passing yards before being replaced by one of the state's best in senior Reza Aleaziz.
They will also return one of the state's top O line's, bringing back a great deal of experience led by line coach Brian Cassidy. Martinez says,"I'm excited for next season, we bring back a lot of the same guys and I think we can make it even further then we did this year". Devin had double digit Td's on the season, and had a monster game against Sheldon in the state quarterfinals.
He showed why he should be considered the top back at the 6A level in the state of Oregon coming back next season. I have been a big backer of Martinez for the last few seasons, as his toughness speaks volumes about his game. Two years ago Southridge youth president Jerry Woodin said, "JJ you need to come see this kid, you won't believe it you just gotta come see it".
What I heard was confirmed as Devin is far from your prototypical back. He is a quiet kid to say the least and lets his play do the talking. The third team all league accolade from this past season doesn't do him justice as he is an unquestioned top back in Oregon.
Martinez did well at our elite event last weekend in Portland looking as strong and quick as we have seen him in the past two seasons. We will continue to keep you updated on Devin, as he should be a kid that everyone hears a lot about in 2013.