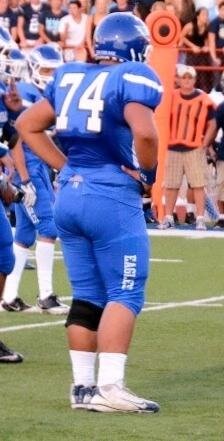 Just two weeks into the Barton Elite Events and a guy that is raising his stock by the minute is junior DT Jay-Tee Tiuli (6-4 295) of Federal Way. Based on size and strength alone you could project Tiuli to the D1 level, but seeing him live will convince you the kid is a legit talent.
Having seen Federal Way three times this past season, I knew Tiuli was a very talented player, but getting to watch him work in close quarters brings me to use one word… Dominant!
Last season was a big year for Federal Way as they were ranked in the top 5 all season and had one of the meanest defenses in the entire state. They were the SPSL South champions for the second straight season and finished as one of the best teams in school history. It was also a good year for Tiuli as he was named 2nd Team All-SPSL on the DL.
One of the big reasons that defense was so good was the work of senior LBs Albert Havili and Rod Jones. Speaking to NEI Jones said, "Jay-Tee is a straight up athlete with great footwork. He plugged up the middle and made my job easier."
The Eagles lose a lot of seniors off of last years squad, but still look as though they have the pieces to compete in the always competitive SPSL South. Tiuli will most likely see time on both sides of the ball in the upcoming season and fellow Jr Kennan Curran raved about his abilities, "The guy is an absolute monster on either side of the ball."
"I've actually witnessed him triple teamed. In freshman ball I remember him having upwards of 5 or 6 sacks a game and just taking down a pile of guys". Curran continued, "The thing I love most about him is outside of football he is a quiet, well mannered soft spoken guy."
Having gotten to know Tiuli this season, I would agree with Curran's take. He is a kid I have described as a "Silent Assassin". He is very soft spoken, but when it is go time he takes things to another level. Hand fighting is key to play along the lines and something Tiuli has perfected. His ability to come off the ball and get through the line is rare for a player of his size.
Tiuli is on our 2014 DL rankings and when we re-rank the juniors in the next few days, he will be moving up. Expect to see more about Jay-Tee in the coming months as he prepares for what should be a very big season. Tiuli is kid that gets it and therefore I leave you with the first thing he wrote me "I'm a STUDENT athlete, student before an athlete."