Our first Portland Elite Event saw 60+ of Oregon and SW Washington's best compete against one another for a two hour period. Three D1 offer kids highlighted the group in Connor Humphreys (6-4 245 Jr. DE) of Central Catholic, and Jesuit standouts Joey Alfieri (6-3 220 Jr. LB/FB) and Henry Mondeaux (6-5 245 Jr. TE/OLB). The trio was offered by Oregon State a few weeks back.
The elite events allow the top kids to be able to train against one another over the off season, making evaluations by colleges and others much more accurate. Media that will be attending the events in Portland and Seattle over the next three months include ESPN, Scout, The Seattle Times, Oregon Live, Dawgman.Com, Duck Authority, and Beaver Blitz to name a few.
Last year we saw new offers come in almost weekly during the event season, so we look forward to continuing that trend as the year progresses. All of us the Barton Football Academy strive to help our northwest athletes get an opportunity at the next level. Our college contacts are unmatched, and the events and videos produced have been huge for all schools making decisions on kids.
We look forward to seeing you back in Portland on Jan 27th, as Seattle Elite is going every week with the kids up north doing a phenomenal job.
Blessings to all,
Jordan Johnson – NEI/ Barton Football
*Not every event will be documented via video but most. The one's that are will not be done the next day. The most important aspect to all of this, is that we can get video and insight into the hands of the right college coaches who can then make their decisions.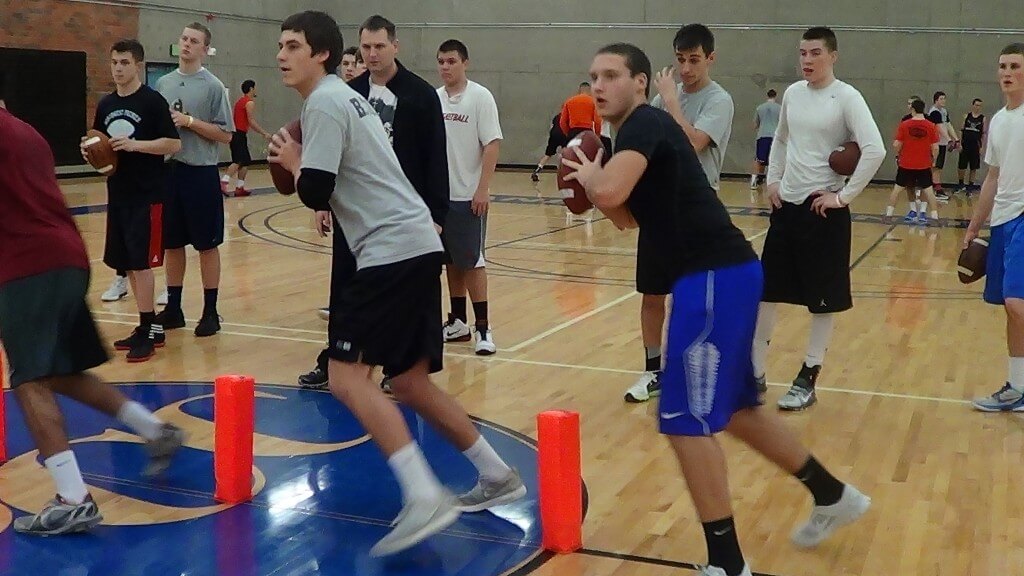 QB's
Its always fun to to get the top QB's working with Taylor Barton. Oregon top's top ranked Jr. quarterback, Aidan Wilder (6-0 190 Jr.) out of Central Catholic, has improved immensely in just a few short workouts with Barton highlighting all of his potential.
SW Washington came well represented with three of the state's top ranked QB's representing their schools in Reilly Hennessey (6-3 190 Jr.) of Camas, Nolan Henry (6-1 180 So.) out of Union, and Jess Krahn (6-4 210 Jr.) from Hockinson.
We all know Hennessey as he is considered one of WA's top three 4A QB's after throwing for 2800 yards and 26 Tds last season. He just looks better and better, and will lead the #1 ranked Papermakers into 2013 as a legit D1 prospect. Henry is the cousin of NFL QB Kellen Clemens who is a close friend of Barton's and trained with him as well. Nolan continues to just look physically more impressive each workout and has a very high ceiling. Krahn just returned from the Army All American Combine much like Hennessey, and was on point all day using his big frame to throw darts to receivers. He is ranked as one of WA's top five QB's for 2014.
Just up the road two more of Washington's best in Tanner Gueller (6-3 220 Jr.) of W.F. West, and Jayden Croft (6-1 180 Jr.) from Tumwater also had big days. Both kids are camp guru's and just love to compete, with Gueller having grown into his body and looking like a big time prospect. Both kids have professional genes with Tanner's brother being selected in the MLB's 1st round last season, and Croft being the nephew of former USC QB Brad Otton. Croft is another kid that you can't help but like as he is a leader in every sense of the word.
Junior AJ Woodin (5-11 190) of Southridge will lead the Skyhawks next season, as he is an athlete that ranks as one of the state's top 10 QB's. His work ethic is unmatched, as he had some impressive performances leading the Metro League in passing yards before the return of top senior Reza Aleaziz.
Sophomore Willy Pflug (5-11 175 QB) is an extremely talented athlete and ranks as one of the OR's top five QB's for the 2015 class. He is joined at Sunset by another talented quarterback in Clayton Welsh (6-2 185 QB) who provides head coach Faustin Riley with two solid options.
Two more young guns in the 2015 class did their thing were Troy Fowler of N.Medford and Jack Hamburg of Jesuit. Both athletes are two of the hardest working quarterbacks in the state, with Fowler starting the entire season for the Black Tornado gaining valuable experience. Hamburg is also a student of the game and will eventually will be the Crusaders starter.
Don't sleep on Doonie Johnson (6-0 210 Jr.) of Clackamas, as he stepped in for Cade Wilkins after a week 1 injury. He did a phenomenal job on the season throwing for close to 1900 yards and 16 Tds.
Two of the most exciting young athletes anywhere on the west coast were also doing their thing. Freaky 8th grader Connor Neville (6-1 160) looked like a varsity starter, with freshman standout Sam Noyer (6-3 180) of Beaverton being one of the most impressive young QB's we have seen in some time. Both of these kids are two of the top athletes at their position anywhere in the region and have unlimited potential.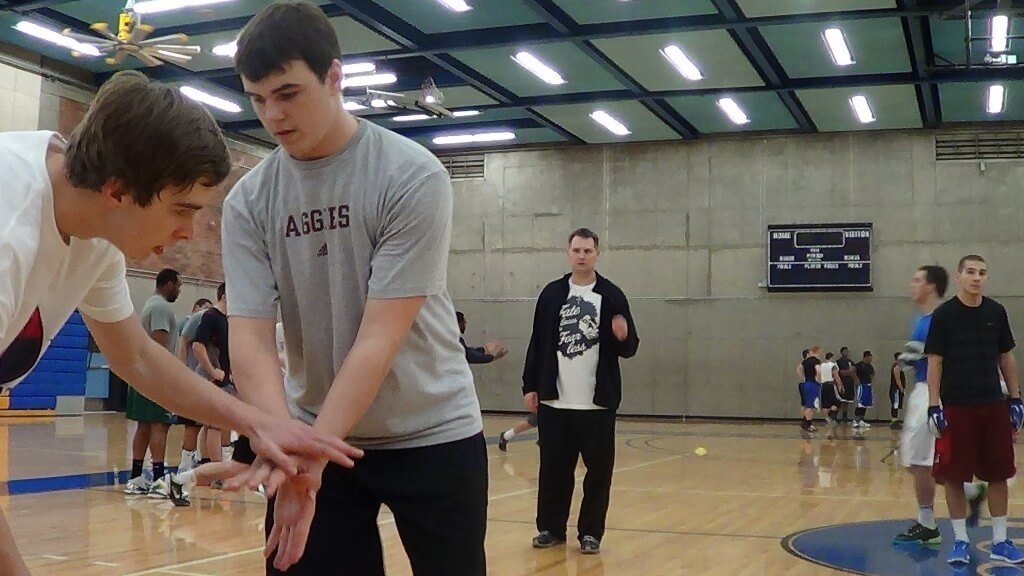 WR's
It was exciting to see a group of the NW's top receivers highlighted by two way threat and Co offenisive Player of the Year Zach Eagle (5-9 165 Jr. Slot/DB) out of Camas, and Oregon's #1 ranked Jr WR Jordan Morgan (6-2 190 Jr.) of Southridge.
Eagle is one of very few people in the country his size that projects at the D1 level. He is that talented. He went for 1000 receiving yards and double digit Td's as the Papermakers will be WA's #1 ranked 4A team in 2013. Morgan has all of the talent in the world and made DB's look silly all season, going for 15+ Tds and earning 1st team all Metro honors. He too projects at the D1 level, but will have to prove himself this off season.
Jeff Bieber (6-4 190 Jr. WR) of Sunset was injured for part of last year, but comes back as one of the state's top receivers for 2014 and looked very athletic. Garrett Hitner (6-2 185 Jr. WR/S) of McNary will be player of the year candidate out of the Central Valley, and was a kid that we were really happy to see. He is a two way threat that will help the Celts compete for a CVC title next season for the first time in awhile.
Michael Gaskell (5-10 175 Jr. ATH ) was the only all league athlete on a Hillsboro team that had a tough year, and Zach Davis (5-9 165 Jr.) of Central Catholic will play a big role for the Rams next season with the departure of Lawrence Wilson and Beau Duronslet at WR.
Sashi Penn (5-11 165 Fr. WR) is a frosh that made the drive from Ashland and looked very impressive showing he could compete with the top older athletes. The sky's the limit for Penn who showed incredible dedication hopping in the car with his family by himself, and getting up to the event.
Bryan Moon (5-10 165 Jr. WR/DB ) will be a key player for a W.F. West team that will be a 2A state title contender next season, and Josh Hansen (6-0 160 So. WR ) was another North Medford sophomore that can play on both sides of the ball and projects as a starter next season.
Jonas Dahl of Silverton will be a part of a special 2014 class for the Foxes. He is a converted QB that uses his football smarts to out maneuver people at wide out. Micco Mills (6-0 175 So. WR ) of Wilsonville was a kid I had never seen before in person. He did very well for himself showing that he could play with the big boys. His routes were crisp and he caught everything thrown his way.
A kid you will get very familiar with is Jon Neville (6-2 165), only an 8th grader, but one of the top young wide receivers in the region. He is the twin brother of Connor and almost equally as freaky.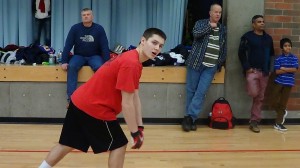 RB's
Two of the state's top four returning 6A backs in Devin Martinez (5-8 190 Jr.) and Daniel Sherrell (5-9 180 Jr.) highlighted a small but very talented group on Sunday. Martinez looked the best we have seen him in the last few years, as a two time all league kid returning next season. Southridge should be a state title contender next year.
Sherrell is not a big kid either but runs with power and cuts well. He went for over 2000 yards and 25+ Tds in 2012, in what was a much improved season for an upstart Clackamas team.
Christian Cummings (5-10 170 Jr. RB) made the trip from Tumwater, WA as a back that will take a bulk of the carries next season as a legit 2a favorite. Cummings looked very impressive and is a kid that we will be adding to our rankings board.
Two other standouts who we have ranked are Brett Hildebrand (5-10 190 Jr. RB) of Mcnary and Austin Mason (5-8 165 So. RB ) of Liberty. Hildebrand isn't the biggest kid in the world but did well. He will be a featured back in the CVC next year after going for almost 1500 yards and 12 Tds in 2012. Mason is a sophomore I've become a big fan of. He played on a 5A Liberty team that struggled mightily, but is considered one of the better sophomore athletes in the state.
TE's
I think Henry Mondeaux looked as good as any athlete in the building and showed why Oregon St made a great move offering him. Henry is incredibly quick and agile for his size, and I feel he could be a double digit offer guy with continued progression. Josh Brown is all of 6-6 and is fresh off a dominant Metro League junior season where he earned all league honors on both sides of the ball (1st-D) . He is another kid that projects to the D1 level.
Brody Haelehn has quickly become an athlete that ranks as one of the top two way threats in Oregon. This years TE's class compares to the LB's with three D1 projected tight ends, Haelehn being the other.
Isaiah Hall (6-4 220 Jr. TE) of 3a Horizon Christian has a D1 body and is a kid that I can't say enough good things about. He is ranked as one of our state's top TE's.

LB's
The 2014 Oregon linebackers are as good as they have ever been, as we saw incredible speed at the position and D1 type athletes everywhere. Oregon's top ranked Jr. LB Joey Alfieri (6-3 220 Jr. LB/FB) highlighted a group that will be playing on TV in the near future. Alfieri has been offered by Oregon St and showed off quicks and instincts that have him ranked Oregon's top backer. Alfieri was a runner up conference player of the year, and will be a three time first team all league starter with NFL genes.
Nick Underwood (6-2 215 Jr. LB/RB) of Lake Oswego, much like Alfieri was a 1st team all league kid. He projects at the D1 level and clocked a 4.45 hand time forty at our combine last year. Nick looked fast and very athletic and will be looking to add size over the off season. AJ Hotchkins (6-0 225 Jr. LB/FB) out of Tigard is a monster and may be fastest rising recruit in the region. Iowa visited him at school recently, and they will be back to see him and Johnny Ragin who they recently offered.
Sam Bodine (6-3 220 Jr. LB) of Canby may have had the best camp of any athlete in attendance as he not only moved well, but looks the part. Bodine was a first team all league kid and someone that I consider one of the state's best overall players regardless of position. Chase Marshall (6-3 230 Jr. LB) of Lakeridge is another kid that we are high on, as he has legit collegiate size and an outstanding work ethic. He will be a three year starter and one of the top players in the TRL.
Korye Trejo (6-1 240 Jr. DL/LB) of Tumwater is a kid that you can describe by just saying he's a very good football player. He played D line during the season, but will have to be a backer in college.
There were two very talented kids out of the Mid Willamette Conference that made the trip. 1st team all league LB Matt Craig (6-0 205) helped Silverton go on lock down mode defensively for most of the 2012 season, as they were the best defense in the state at the 5A level. Caleb Naughton (5-11 215 Jr. FB/LB) will be a three year all league kid out of Dallas and is also an outstanding fullback. His work ethic is phenomenal.
Last but not least was Edmund Polataivao (6-1 195 So. LB) out of North Medford who was one of 14 sophomores that started for the Black Tornado. He will be one of the better players in the SWC and we will be adding him to our rankings board.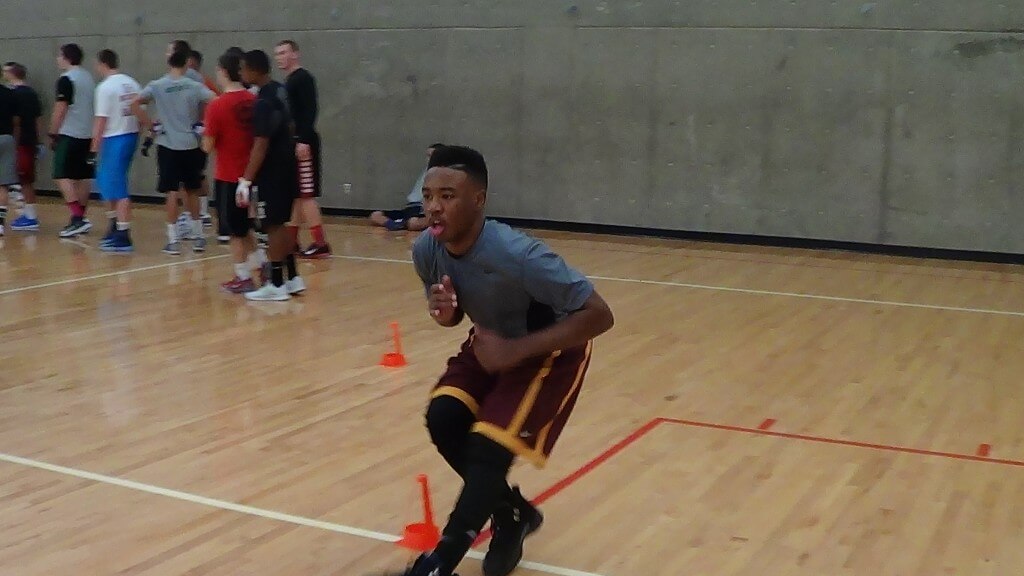 DB's
Aaron Washington Jr. (5-10 165 Jr. CB/ATH) out of Central Catholic is Oregon's top ranked corner and had a phenomenal day. Taylor Barton commented on Aaron's skills as he looks to be the real deal. I have become a big advocate for Zach Farnes (6-1 200 Jr. S) of Clackamas, as I think he is a legit D1-D1aa strong safety. He was one of the state leaders in tackles this past season (130+) and showed good speed and physicality.
Nick Janakes (6-0 190 So. RB/S) showed why he is considered one of the state's top sophomore two way athletes. He's a strong kid that can run, and he will be equally dangerous offensively.
Maybe the surprise of the day was Mitch Fettig (6-0 170 Jr.) out of Olympia who jumped out of the gym and showed impressive footwork. He was a 1st team all league and all area DB with 5 Int's. He will make a significant jump into the WA rankings.
Chandler Schoonmaker (5-11 200 Jr. S/RB) of Tualatin will be the T Wolves best two way threat in 2013, as the kid is thick and durable and has football speed. Mike Johnson (6-0 165 Jr. ATH) will be a key part of a top ranked Camas secondary, and for the 2nd week in a row was one of the quickest kids in the building.
Finally, Cort Martin (5-10 175 Jr. DB ) of Silverton was part of that Silverton D that pitched shut outs like it was going out of style. He too made a name for himself. In all we had some of the state's best and 3-5 conference defensive player of the year candidates in attendance.
DL/OL
It was great to see the line back in action with former Oregon St and Chicago Bears lineman Alex Linnenkohl, and D1/NFL guy Marcus Royster coaching the guys up.
Oregon's top ranked Jr. lineman Connor Humphreys (6-4 245 DE) of Central Catholic highlighted the big guys, as he was one of four in state athletes that received an OSU offer a few months back. Humphreys is one of the fastest kids off the ball on the west coast and holds 3 D1 scholarship offers.
Marqueese Royster (6-1 250 Jr. DE) out of Lakeridge is another kid that we have ranked as one of the state's top four D lineman. He will use power and hand technique to be a TRL defensive player of the year candidate.
Maybe the most impressive athlete of the day was on the O line, in Mike Miller (6-4 280 Jr. OL) of Jesuit. He didn't start last season on an all senior D1 line, but he will get his opportunity in 2013. He more then held his own against some of the state's best, and could be considered one of Oregon's better O lineman after Sunday's performance.
Senior Nick Foerstel (6-3 215 Jr. DE) out of Tumwater was maybe the most impressive D lineman on the day as people couldn't handle his speed off the ball. He was definitely one of the most impressive kids in the gym.
Two sophomores that made the drive from Roseburg and did well were Shon Atterbury (6-2 265 OL) and Isaiah Smith (6-0 260 DL). They will be the foundation of the Indians program moving forward.
Kaj Christensen (5-11 265 Jr. DL) of Dallas showed why he was one of the state leaders in multiple statistical categories, and JJ Banks (6-0 245 Jr. DL) out of Marist is a kid that im extremely proud of making enormous strides from last season.
Grant's Caleb Wells (6-7 255 Sr. DE) is a senior still trying to better himself, getting all the work in he can as his upside is still very high. Freshman D lineman Massen Newton (6-0 250) out of Lakeridge was a part of Team Oregon, which is something very rare at such a young age. He is one of the better athletes for the 2016 class.
Another youngster out of Jesuit, Paul Vickers (5-11 235 So.), showed that size was just a number as he was happy to battle any of the monsters put in front of him.