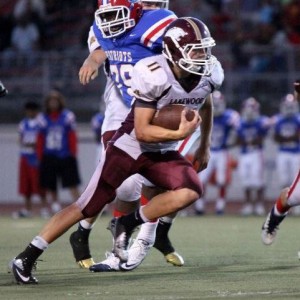 Over the past two or three years, one of the top multi-purpose athletes in the state of Washington has been Lakewood's Justin Peterson. At 6'1″ and 185 pounds, he played running back, wide receiver, quarterback and safety for Cougars and wound up leading them to a 9-2 record as a senior this past season.
"I'm going to play football at Central Washington University," Peterson announced through social media earlier this week.
Peterson took a trip to Ellensburg over the weekend and enjoyed himself so much, that the visit went a long way in helping him make his decision.
"I loved it there. I had a great time," Peterson said. "I liked the coaches a lot and really just enjoyed everything about the trip. I was supposed to go to Redlands this weekend and Linfield the weekend after that, but I'm done. I am excited to be a Wildcat."
The Wildcats are looking at Peterson to play receiver in their system. "They really like me at receiver and probably more as an outside receiver," Peterson told Northwest Elite Index. "I'm pretty excited about it."
Peterson is one of the top multi-purpose athletes to come out of the state the past couple years. This season he went 40 of 68 for 633 yards with seven touchdowns and two at QB. He also rushed for 562 yards and 10 scores while hauling in 32 receptions for 577 yards and 12 touchdowns. Defensively he racked up 28 tackles and six interceptions while earning All-State honors.
"As the season went along, I played more wide receiver, which was good," Peterson said. "Pretty much every time I stepped on the field, I was willing to do whatever I had to do to help my team and that's the mentality I always bring to the field."
Now Peterson will take his football skills to Central Washington where he hopes to help the Wildcats continue their winning ways and he might just do it from a number of different positions. Depending on what the need.