Highlight Videos:
Alek Kacmarcik , Wyatt Smith , Andre Dillard , Drew Accimus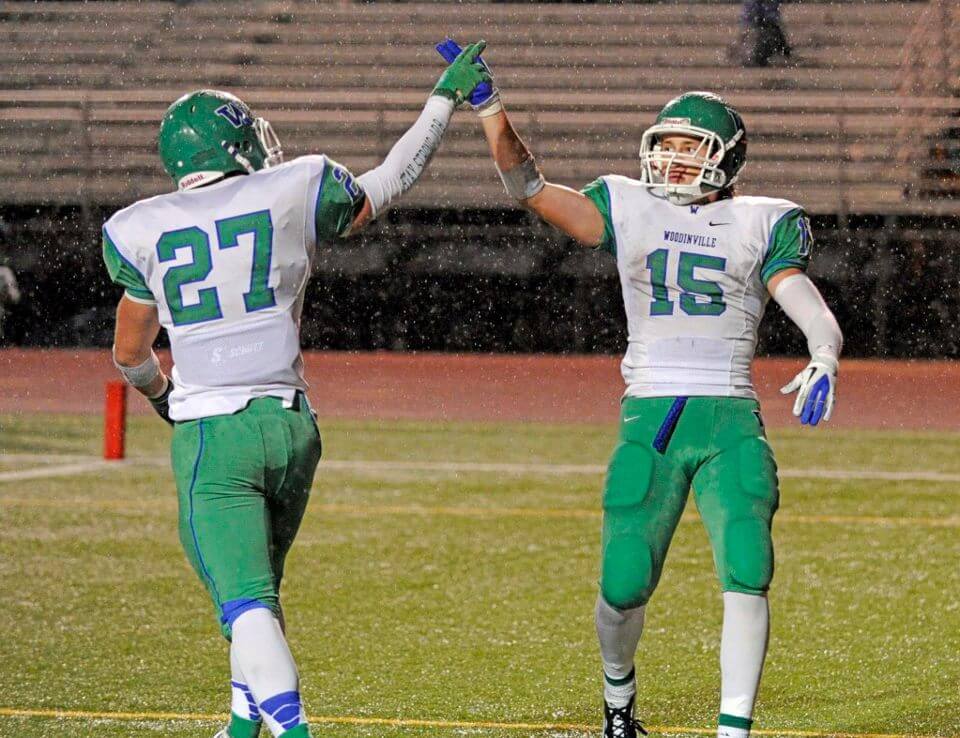 It was good to see a couple top Woodinville Falcons at our first Seattle Elite Event in Alek Kacmarcik (6-2 205 Jr. S/RB) and Ian Biddle (5-10 170 Jr. CB). Both kids are considered two of the better players in the state for the 2014 class with Kacmarcik flying up the charts.
Woodinville has an outstanding youth program and head coach Wayne Maxwell has done a good job of getting everyone within the football community on the same page. Kacmarcik was a 1st team all league DB and 2nd team RB as a junior, and will be ranked as one of the top safeties in Washington.
Alek says, " I think next year we will be more experienced and have a good shot at getting back to the dome". He continued, " It was good for us younger guys to see our team get to the semi's a few years ago, cause it showed us what it takes to get there".
Biddle was a 2nd team all league kid tying for the Kingco lead in Int's (4), and will join Kacmarcik in the secondary. The Falcons will have a solid set of skill kids with WR Drew Accimus (6-4 200 Jr. WR) and RB Wyatt Smith (5-7 165 Jr. RB) returning. Accimus is a kid that I was very impressed with last year on the camp and combine tour. He is a multi sport athlete with size and also a very talented baseball player. He caught 25 passes for 411 yards earning 2nd team all league honors last season.
Smith is a solid runner rushing 55 times for 364 yards and 4 Tds in 2012. Alek says, " Wyatt has put on some weight and is going to do a really good job for us next year, and Drew is just a really good athlete".
The Falcons do lose some lineman but return some legit kids as well. Andre Dillard (6-5 230 Jr. OL) is a basketball player with an outstanding frame, that will return after being a full time starter last season. Colby Carson (C/NT Jr.) and Cole Stemmerman (G Jr.) will be two other O line kids that come back and should play a prominent role.
Rush D end Lee Wunderlich (6-1 195 Jr. DE) will be an athlete that returns on the defensive side of the ball. He's undersized for the position but plays with a high motor. Three additional underclassmen that could get in the mix are current sophomores Brad Roland (6-0 190 LB), Ronald Jones (5-10 230 OL/DL), and a very talented freshman in Dylan Axelson (5-10 170 ATH).
Kacmarcik will be key to the Falcons success, as he is a team leader on both sides of the ball and in the classroom. He sports a 3.82 GPA taking AP classes and remains focused in the weightroom as well. Kacmarcik says, " Will Jack will be good for us at the QB position and on defense, he's a very versatile athlete".
I really like this Woodinville team as they play football the right way and bring a bunch of community support to the table. I think the Falcons will be a team to be reckoned with in 2013, and we look forward to following Kacmarcik and all of his guys over the off season.