Three Sehome footballers are still looking for a home and recently, Northwest Elite Index spoke with first-year defensive coordinator Hillary Butler about why he thinks they deserve more attention and hopes some schools come calling in the near future.
"I think these guys are really under-the-radar and I'm actually pretty surprised more schools haven't been looking at them," Butler told NEI. "They are all great kids and really good athletes. I think they could really help a college program if they just got a chance."
Here is a look at each player, what Butler says they bring to the table and some stats from last season…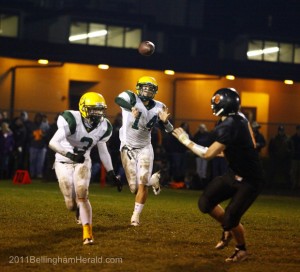 QB/S Austin Rapp (6'2, 220)
"Austin was a two-way player for us and I think he's a pretty special athlete. He's 6'2 and 220 pounds and he runs a legit 4.5 forty and might even be under that. He's really strong and he's a big, physical athlete. I think one of the reasons he hasn't heard from a lot of schools, at least for football, is because he's such a good baseball player, most people think he's going to play baseball. He's got a great arm and he's a really good leader. He threw for 522 yards with two touchdowns and an interception. He rushed for 364 yards and four more touchdowns. On defense, he had 30 tackles (18 solo), five pass break ups and one interception. I think he could play on either side of the ball and be successful. He just needs to find the right opportunity."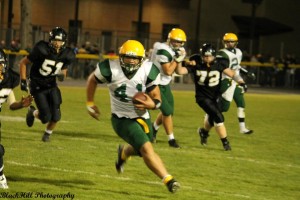 RB/LB Titi Lamositele (6'0, 245)
"He's got a rugby background, so playing football came pretty naturally for him. He had never played middle linebacker before, but we needed his instincts and speed on defense, so I put him there and he picked it up pretty quickly. On offense, he's just a bruiser. We used him a lot this season in one-back sets and in a lot of different ways, so I think he could play on either side of the ball and be really successful. On defense, he had 63 tackles (27 solo) one tackle-for-loss and pass break up and a hurry. As a running back, he posted 836 yards rushing and he had five catches for 85 yards and four touchdowns."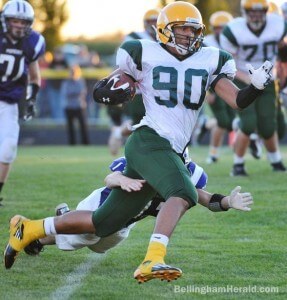 DE/TE Bo Banner (6'3, 220)
"Bo was a kid who we used in a lot of different ways up front on defense and on offense because he's such a good athlete. We split him out on offense as a wide receiver and then kept him in tight as a tight end and then on defense we moved him around, but he mainly played defensive end. I like him on offense, but he's going to need to grow and put on some size to play tight end at the next level. Defensively, I think that's probably a better place for him just because he's so fast and he's got good instincts. He's kind of a quiet kid, but when he gets out on the field, he really started to speak up and be a vocal leader as the season moved along. Bo had 28 tackles (14 solo), three tackles-for-loss, three sacks. six hurries, three batted balls and an interception. On offense he had three catches for 75 yards and also had 80 yards rushing."
All three are good students and could wind up being real steals if a team were to come in late with an offer. We will continue to keep track of their progress and will update news on them as it happens.