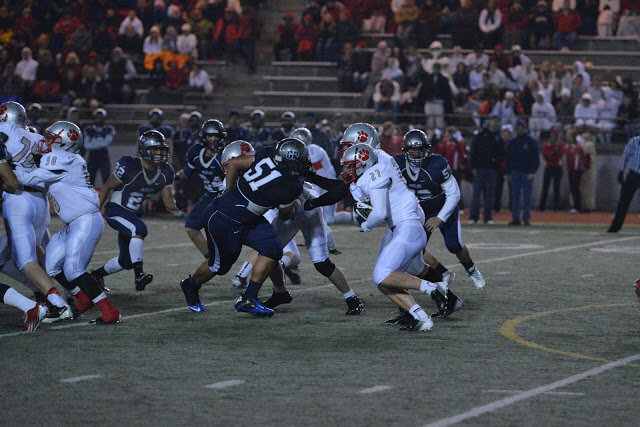 A rising star in the ranks from the 2015 recruiting class in the state of Washington is Glacier Peak DL Mosese Fifita, a 6'0, 275-pounder who was all All-League selection in 2012. The physically-gifted athlete had an outstanding sophomore season on both sides of the ball and his head coach, Rory Rosenbach, thinks he could be one of the biggest recruits to ever put on a Grizzlies uniform.
"He's so strong at the point of attack and he's so quick, he's a pretty special player," Rosenbach told Northwest Elite Index recently. "He really gets after it and I think he'll be our first big-time recruit to come out of here. He's a good kid and a good student and he wrestles, so he understands leverage and all of that stuff. I think he's got the chance to be pretty special."
Playing both ways for the Grizzlies, Fifita started at left guard on offense and nose tackle on defense, earning First Team All-Wesco 3A honors after posting 48 tackles, 4.5 tackles-for-loss, one sack, nine hurries and three blocked kicks on the defensive side of the ball.
"I like playing both, but I probably prefer defense just because you can attack more," Fifita acknowledged. "On offense, you protect the quarterback more and that's all fun, but I like to attack and hit people more. I know football is a team game, but when I get out there, it's all individual to me. I make it an individual battle between me and the guy across from me. If I beat my guy, I help my team. That's how I play it."
In addition to his exploits on the gridiron, Fifita is also an accomplished wrestler.
"I'm in the heavyweight division and I feel like I've improved a lot," Fifita said. "I win most of my matches and I love to complete, but it really helps me with my agility and my leverage and my strength and that helps me on the football field."
This offseason, Fifita said he plans to hit the camp circuit and improve on things to help him lead his team this coming fall.
"I definitely want to work on my speed and quickness a lot," Fifita said. "I'm thinking of going to camps at Washington and a couple of other schools. I just want to get out and compete and get better because our goal is to get a state title next year and I'd like to get All-State honors."
We'll keep checking in with Fifita over the next few months and we will update news as it happens with him.