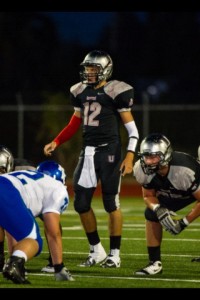 For anyone that doesn't know, Southwest Washington football is for real. The Union Titans, much like Camas, are another team that can bring a "Texas like" crowd to each game. It says a lot about the community and the people within the program.
Next season expect to see Camas be the #1 ranked team in the state and also ranked nationally. If it wasn't for the nations #1 ranked QB Max Browne, they would have won it this year. All this said as Union's junior class (2015) could be similar in talent, and will be the Papermakers toughest test next season.
Junior QB Nolan Henry (6-1 190) will be back to lead the Titans after a successful sophomore season that saw him get every start and do well. Union went (7-4) with losses to Camas, Jesuit (OR), Skyview, and Gonzaga Prep, all super legit competition.
Henry is the cousin of eight year NFL vet and former Oregon Duck QB Kellen Clemens. His dedication to the sport is unquestioned, and the kid just genuinely loves the game. We have Nolan ranked as one of the top 3 QB's in the 2015 class, with two other high profile D1 recruits in Brett Rypien of Shadle Park and Ross Bowers of Bothell.
Union will bring back a host of talented juniors, but also a good senior class in 2013. Leon Siofele (5-11 200 Jr. RB) ranks as one of our top 10 backs statewide for the 2014 class, rushing for 17 Tds last season. He will be joined by 3 lineman who should all play a prominent role in 1st team all league returner Connor Wong (5-11 215 Jr. T) and Aaron Anderson (5-11 260 Jr. G).
Defensively Ta'ala Letioa (6-1 220 Jr. TE/DE) will play a primary role, and could also start at TE depending on the return of all everything athlete Jake Hawken (6-3 220 Jr. ATH/LB) who didn't play this past season. If Hawken does return that could be a game changer as he is one of the better athletes state wide.
The juniors to be are loaded led by Henry. Tyler Dionne (6-3 210 So. WR), Thomas Lampkin (6-1 185 WR/S) , Caleb Browning (5-11 170 So. RB/S) and Alex Berfanger (5-10 190 So. RB/LB) all rank as some of the state's top athletes for their class and position. We should see the Titans be able to spread the ball around using a plethora of different weapons. Dionne's a kid that has raised eyebrows and will jump up our boards as his upside is through the roof, with his size and overall athleticism.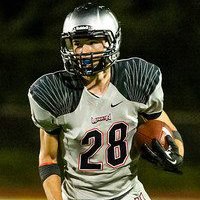 Many are familiar with the last name Lampkin, as his father Tom was an outstanding MLB player for many years. The younger Thomas is an outstanding athlete on both sides of the ball and will be a featured kid for the Titans. Browning's an athlete that I really like as he has impressive genes (brother at D1-AA Southern Utah) and isn't done growing. He started for Union this season and played like a vet. He also ranks as one of our top DB's for the 2015 class.
Berfanger is a kid that has gone somewhat under the radar, but super talented and will be one of the top two way athletes in the GSHL next year. One additional sophomore athlete who we think very highly of is Tate Nelson (6-1 225 So. OL/LB). He projects as a backer at the next level, but plays on the line offensively due to his abnormal strength and overall athleticism.
Other athletes you will hear about over the off season are Ethan Beniga (5-6 150 Jr. Slot/DB) , Jack Bauer, and Jake Kronstad (5-7 170 Jr. WR/DB). All three of these kids are projected starters and will play key roles within the system.
Coach Cale Piland does a great job with his guys, getting them ready and on the same page. Since Union has opened they have been one of the better teams in Washington on a consistent basis. Since 2008 they have gone (47-13) under Piland, and have a chance to do something special in the next few years.
Henry says, "we are all excited for next season and are already working hard, I'm taking baseball season off and focusing on football and training with Taylor".
Almost every top QB in the entire region is currently working with Barton, as we will see many current D1 and NFL guys back training with him shortly. Nolan has a 4.0 GPA with all AP classes and an upside that won't quit. Taylor says, " I think Nolan can do whatever he puts his mind to, he's an extremely talented kid and someone that won't be outworked".
We can't say enough good things about Coach Piland and his Union program, and look forward to seeing them make a run next year in one of the best football environments state wide. The Titans should come in a top 10 ranked 4A team, and have a chance to make history over the next few seasons.