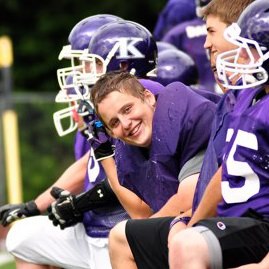 After a solid junior season this past fall, Kamiak OL Jake Meuse, a 6'3, 285-pound junior, has started to pop up on recruiting radars for the 2014 recruiting class and Northwest Elite Index was able to speak to the talented lineman as well as his head coach, Dan Mack, on what makes him such a special player…
"I think the most impressive thing about Jake and what he can do on the field is his feet," Mack told NEI. "Usually a kid his size, you cover up a little bit because his feet aren't that good, but Jake has great feet, really quick, and that allowed us to put him outside at tackle.
"He's also a really smart kid. He's got a really high I.Q. and hes' bright, both on the field and in the classroom, and that really helps him out on blocking schemes and also making sure he makes the right adjustment on things."
"I played both ways for us, but I probably am better on offense," Meuse said recently. "I got Second Team All-Wesco 4A on offense. I played right tackle for us and I felt like I did pretty well, but obviously I have a lot to improve on."
One thing that Meuse mentioned he wanted to work on was his strength.
"Right now I'm benching 245, but I'm working out five or six days a week to get that up," Meuse noted. "I do crossfit on my own and then we lift as a team at school four days a week.
"I also want to get leaner and lose a little weight because I think that will help me to be quicker."
Meuse has yet to start looking at college camps for this spring, but said he plans to attend them when he gets a chance to sit down and schedule them.