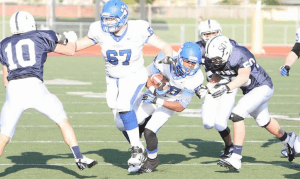 Central Washington offered Bothell OL Chase Madsen while he was on campus in Ellensburg this weekend and he told Northwest Elite Index while he's excited to get the offer from the Wildcats, he's holding off on making a decision until after he takes a visit to Dixie State next week…
"I took an official visit to Central (Washington) this weekend and they offered me while I was there," Madsen told NEI on Saturday night. "It's pretty exciting and something I was hoping for and now that I have it, I have something to think about.
"I'm visiting Dixie State (in Utah) next weekend and I want to take that visit and then I will make my decision."
Madsen was a three-year starter for Bothell and as a senior this past season, he was name First Team All-Kingco 4A and also received First Team All-State honors from the Associated Press.
"I worked really hard this past offseason, especially on my strength and my quickness and I think it paid off because I felt like I had a great season individually," Madsen said. "I got all of those postseason honors and that tells me others thought I did pretty well too."
Madsen is able to play inside or outside and he said that both Central Washington and Dixie State like his versatility and haven't decided where they'd like to use him.
"They both said they saw me playing inside or outside. A lot just depends on what they need," Madsen noted. "I'll play anywhere. I just want to play and I'm excited that I can play college football and I have some schools to choose from."
Madsen plans to return home from his visit to Dixie State next weekend and then will sit down with his family and make his decision.