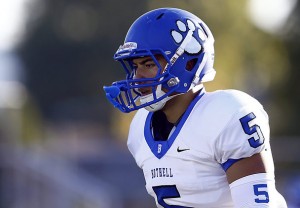 This past weekend, Bothell RB/LB Darrin Laufasa took a trip to El Paso, Texas to see UTEP and while he was on campus he decided to commit to the Miners…
"Darrin came back from his trip and committed to UTEP while he was there," Darrin's father, John Laufasa, informed Northwest Elite Index.
Laufasa had been committed to BYU for months, but a couple of weeks ago, things changed as the Cougars pulled his offer.
UTEP swooped in with an offer and as things progressed they became his new favorite and now he will sign with them on February 6th which is the first day that players can sign letters-of-intent.
Laufasa is a big, athletic player who showed great promise in summer workouts, posting a 4.55 forty time at 225 pounds.
He spent his first three years at Juanita High School in Totem Lake, but transferred to Bothell to be closer to his family.
This past season, Laufasa rushed for 700 yards and six touchdowns for Bothell, but was asked to pave the way for what turned out to be a very good running game, ahead of Danny Wilson who rushed for nearly 2,000 yards and 30 touchdowns.