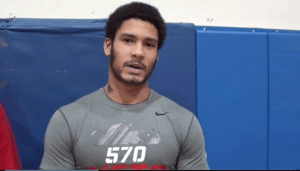 Isaiah Brandt-Sims 6-0 180 Jr. Wenatchee
OFFERS: SMU, Wyoming
** Brandt -Sims was the Big 9 MVP going for over 3400 all purpose yards and 42 Tds over the last two seasons. Isaiah is another quality kid that sports a 3.9 GPA, and will be a double digit offer athlete as you can't teach speed. Brandt-Sims won the big school 100 and 200 meter state titles as a freshman and sophomore, and recently ran the fastest 60 meters in the country.
Lip service aside this is one of the best kids you will ever meet. He projects as a slot at the next level, but could play a number of positions including being a valuable return man.
This week I sarcastically commented on his "fake" neck tattoo saying, "I know that's not real cause your mom would kill you". Isaiah comes from an awesome family and we look forward to reporting on all of the good things that come his way over the next year.
Devante Downs 6-3 230 Jr. Mountlake Terrace
OFFERS: Arizona State, Colorado State, Utah, Washington, Washington State
** Downs is one of the best players in the country. His combination of speed and size are rare and his ability to cut and maneuver like a small back make him even more appealing. He has started since his freshman season where he scored 19 Tds in 7 games. This past season he went for nearly 1300 yards and 23 Tds averaging 7.5 yards per carry, when everyone new he was getting the ball.
Devante could be the top linebacker in the state, but projects as a back at the next level. He could be a 20+ offer guy before all is said and done, as he is a phenomenal kid with an outstanding work ethic and a 3.6 GPA. It was great to see him at the elite event this past weekend.
Chico McClatcher 5-8 180 So. Federal Way
OFFERS: Portland State, Utah, Washington
** Hands down one of the most exciting athletes in the country. McClatcher was nicknamed the "Blue Mamba" during a ROOT Sports Thursday night game of the week broadcast by Taylor Barton and it stuck. He does things on the field that very few athletes can immolate and his speed speaks for itself.
Chico is still extremely young and will most likely have offers from a majority of the Pac 12 schools before he is done. McClatcher was a big reason that Federal way had the season that they did, and both him and Keenan Curran will have to lead next year's squad after the departure of maybe the most successful senior class in school history.
Myles Gaskin 5-10 185 So. O'Dea
OFFERS: Plenty are coming…
** Get used to hearing this kids name as he will be a legit high profile D1 back. He went for over 1000 yards and double digit Tds this past season, splitting time with another one of the country's top athletes in Tatum Taylor. He is one of the fastest sophomores in the entire region, and was a part of the Varsity 4 x 100 relay team that had the fastest time in the state in 2012.
Gaskin does not have offers yet, but he is a can't miss division 1 talent and a kid that we will see getting early offers probably sooner then later. Multiple people have been quoted saying that he could be the best back to ever come out of ODea by the end of his career, and anyone familiar with the athletes that have run the ball there would say that validates his skills.