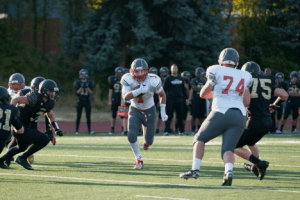 It was good to see Devante Downs (6-3 230 Jr. RB/LB) of Mountlake Terrace this weekend at our Washington Elite Event. It was even better to hear that he had just received his 5th major offer from the Cougars of WSU.
"I got word from my coach informing me that coach Russell of WSU said they are offering me". He continued, "they said they didn't know what side of the ball they wanted me on but I was just happy to hear about another opportunity".
Downs looked the part this weekend as we were able to see him do work against other elite D1 level competition. His ability to accelerate and cut for a big man is incredible, as D1's can feel comfortable with his overall size and athleticism.
Devante went for almost 1300 rushing yards and 23 Tds this past season, averaging 7.5 yards per carry when everyone knew he was already getting the ball. He will be a state player of the year candidate next season, after starting from his freshman season on.
The Hawks went (5-5) this past season and are far from a traditional football power, but Downs has changed some things. "My number one goal next season is to help get my team get to the playoffs for the first time in school history, we will all be working hard".
Devante's a team kid first that takes his academics very seriously. He has a 3.6 GPA already earning college credits while taking accelerated classes. Whoever lands Downs is getting the full package, and we wish to congratulate him once again on another outstanding scholarship offer.