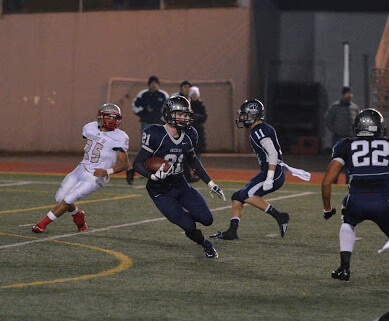 One of the top two-way stars in the state of Washington this season, at any level and by any measure, was Glacier Peak's Sean Elledge. All he did was go out and put up huge numbers on offense – 43 receptions for 873 yards and 14 touchdowns – and on defense – 94 tackles, two sacks, five forced fumbles and two interceptions. With those number you'd think schools would be beating down his doors or ringing his phone incessantly, but that hasn't been the case…
"Right now, I'm sorta just waiting on some D-2s to call and talk to me," Elledge told Northwest Elite Index recently. "I've got a half scholarship from Wayne State and I'm visiting Central Washington next weekend and they said they were going to offer when I come over there.
"Honestly, I'm a little surprised, but I know I can play at the next level and I will have the chance to show people what I can do."
Elledge's huge season on defense led him to be named the the Everett Herald's Defensive Player of the Year, while also earning First Team All-Wesco as a wide receiver and a defensive back and was named First Team All-State as a defensive back. Besides all of those accolades, his big senior season on both sides of the ball put him in the Glacier Peak record books.
Defensively, Elledge ranks second all-time in tackles (194), first in interceptions (10) and first in pass breakups (41). Offensively, he is third all-time in receiving yards (2,105), second in receptions (141), second in receiving touchdowns (26), fourth in rushing yards (504), second in total touchdowns (35) and first in all-purpose yards (3,501).
"As a wide receiver, I think a lot of what helped me be successful was my quickness and my yards after the catch," Elledge said humbly. "On defense, I can pop guys, but I think what I do best is tackle. I pop and drive and finish tackles. That's something I think that helped me post the numbers I did."
Elledge also is a very good wrestler and is currently ranked number one in the state in the 182-pound class. He is set to defend the state title he won as a junior last year in the same class in mid-February.
"I just love to compete and I give 100% to everything I do," Elledge said.
"I'm not sure why, but he just hasn't gotten the attention he deserves," Glacier Peak head coach Rory Rosenbach told NEI last week. "He's a great leader, he's strong, he's got great instincts and he just makes plays and competes his butt off. We are really going to miss him next year and I think if the right situation came along, he'd be a real steal for a program."
With his size (6'0, 195) and speed (4.55), Elledge can play on either side of the ball and find success, but defense appears to be where his future lies due to his outstanding instincts and physicality to go along with his speed and quickness. He is definitely a player flying under the recruiting radar and the program that nabs him late in the process will likely be very happy they did so down the road.