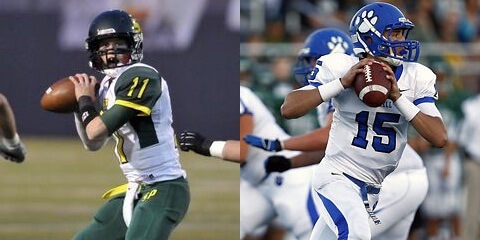 As the week progresses we will be bringing you different video from this weeks Washington Elite Event and last weeks Oregon Event.
In this particular clip we caught up to two of the nation's top sophomores in Shadle Park's Brett Rypien and Bothell's Ross Bowers. As of right now they are both elite level QB's with Rypien already having received a Washington St offer, and Bowers being a sure fire double digit D1 offer kid.
Training with TB (Taylor Barton) is something that most QB's consider a game changer. Don't take it from me, just ask any of the quarterbacks that are currently playing high level collegiate ball or are in the NFL. Two of the last three #1 HS QBs nationwide have come out of the Barton Football Academy (Max Browne – USC, Jake Heaps – Kansas), and other Barton guys like Aaron Rodgers have managed to do pretty well. With all due respect to all of the other talented QB coaches out there, TB is in his own category.
Lets have a look at Rypien and Bowers and all of the other elite QB's in attendance. It was a group the likes we have never seen before during a one day training session, where ESPN and Scout both had a field day getting good interviews from the top kids.
CO #1's for the 2015 class
Brett Rypien 6-2 175 So. Shadle Park – Brett shattered multiple GSL records as a sophomore after throwing for 3, 179 yards in 2012. As talented as Brett is on the field, he is even a better kid. Many remember his uncle Mark Rypien, a an NFL vet and Super Bowl champion who has had a very positive influence on the talented young QB.
Brett and his Shadle Park teammates showed what type of dedication they had making the trip over from Spokane to attend the Elite Event. Its this type of initiative that speaks volumes about the kid and his support system. When all is said and done Rypien will hold double digit offers, with most of the Pac 12's included. He's an outstanding QB and a kid we can't say enough good things about.
Ross Bowers 6-2 185 So. Bothell – I have been hollering this kids name since the beginning of his freshman season, as there are a few kids that just have that "It" factor. Bowers is considered one of the top sophomore QB's in America, because of the things you can't teach.
He started part of his freshman season at a school where that just doesn't happen. The Cougars schedule this last season was borderline ridiculous, already playing in the state's toughest conference. Three of there losses were to (Bellevue & Skyline 2) who were both considered two of the top teams in the country. Bowers upside is through the roof and we are excited for Ross moving forward as he is a leader on and off the field.
**WA has become QB University.. Check out maybe the most talented group ever assembled in NW history for a one day event**
Other top QB's in attendance
Nick Mitchell 6-2 180 Jr. Mount Si – WA's #1 ranked Jr. QB, will be a multi offer D1 kid and someone that will out work most.. Mitchell had 33 Td's in 2012 and has D1 genes throwing the ball very well all day.
Pierre LeDorze 6-2 220 Jr. O'Dea – WA's #2 ranked Jr. QB has a whip, and will be a fixture at our events as his team isn't a passing ball club. This will be a very important off season for Pierre who projects at the D1 level.
Reilly Hennessey 6-3 190 Jr. Camas – WA's #3 ranked Jr. QB.. I truly believe Hennessey has the potential to be at the top of this list. He is that good. His Papermakers will be the #1 ranked team in the state after he threw for 2800 yards and 26 Tds in 2012.
Dillon Sugg 6-5 210 Jr. Wenatchee – WA's #4 ranked Jr. QB.. Another phenomenal athlete with size. He is a player of the year candidate in hoops and will be a three year starter. Travels bi-weekly from the Eastern part of the state to train with TB.
Jess Krahn 6-4 210 Jr. Hockinson – WA's #5 ranked Jr. QB… Plays at a small school, but has a chance to do some big things with a good off season. Krahn has been traveling to train with TB making a night and day difference.
Tanner Gueller 6-3 220 Jr. W.F. West – WA's #6 ranked Jr. QB.. Gueller's another kid that passes the eye test. He has prototypical QB size and will have an opportunity to get a 2A state title this season.
Derrick Becker 6-0 175 Jr. Capital – WA's #7 ranked Jr. QB… Very talented athlete that can run, will be a three year starter and is a kid that just continues to improve.
Jayden Croft 6-1 180 Jr. Tumwater – A kid climbing the charts quickly and someone that will be the general of 2A state favorite Tumwater. Every team wants a kid like Croft leading them, he has phenomenal football genes.
Nolan Henry 6-1 180 So. Union – WA's #3 ranked So. QB… One of the state's top three Soph QB's, will be a three year starter and lead a very talented Union team next season. Cousin is the NFL's Kellen Clemens
Casey Brink 6-2 185 So. Bainbridge – Will now be the guy at Bainbridge which is exciting as he can throw but also run from his QB position. Brink is an outstanding athlete and will be key the next two years.
Tavin Montgomery 6-0 170 Fr. Juanita – WA's #1 ranked Fr. QB… Montgomery started as a freshman, and will be the leader of a ridiculously talented Juanita group. Tavin has some god given ability that separates him from other athletes his age.
Joel Dublanko 6-3 210 Fr. Aberdeen – One of only a few freshman athletes in the country with an offer (Montana), as he is even a more talented backer. Was a Max Preps Freshman All American.