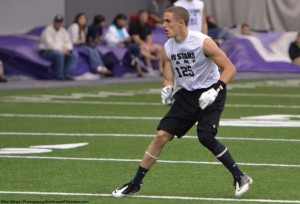 Mountlake Terrace athlete Mason Stone, who was a star for the Hawks the past three years, took his official visit to Idaho this past weekend and he told Northwest Elite Index it was an easy decision to commit to the Vandals while he was in Moscow on the U of I campus…
"Yep, I committed to Idaho," Stone told NEI shortly after returning home from his official visit. "I will tell you what… within three years, that program is going to be contenders. The new staff is amazing and they are all winners. They are bringing in some really talented players that have either already committed or are going to commit and I just loved the overall energy there and the new direction of the program with the new staff there."
As a sophomore, Stone hauled in six interceptions and he followed that up as a junior with 90 tackles and four interceptions as a junior.
As a senior this past season, Stone racked up 55 tackles and four interceptions and was named First Team All-Wesco for his efforts.
"They want me as a safety in their system and I think it's a good fit," Stone said.
In addition to his offer from the Vandals, Stone was considering a walk-on offer from the University of Washington as well.
"That was definitely a great opportunity, but Idaho coming along and showing me where their program is headed, well, it was just a better fit for me and something that really made me want to be there," Stone said. "I had other smaller schools that were going to offer me if I hadn't committed to Idaho, but it was just right and I'm glad I made my decision."