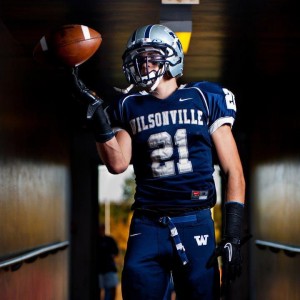 Wilsonville's Tanner Shipley (6-2 185) has had a very busy last year garnering scholarship offers from the likes of BYU, Colorado, Oregon St, Nevada, Wyoming and now the Boise St Broncos.
Shipley is a soft verbal commit to BYU, but is also entertaining other options as signing day draws near. He was the NWOC Player of the Year this past season going for over 1800 all purpose yards and 20 Tds after a stellar junior season. Tanner came in our #2 ranked WR state wide, but torched opponents as a running back.
The Broncos are an appealing option as Tanner says, "Boise St has been one of my top schools since I started the recruiting process, and Coach Peterson is a great coach and even better person". He continued, " all around its a great program and with some luck they have a legit shot of winning a national championship".
Tanner played for one of Oregon's top high school coaches in Adam Guenther while at Wilsonville, and is a looking for a place that provides more then just great football. Both BYU and Boise St are quality places and Shipley will have a tough decision to make shortly.
One of the country's top lineman Brayden Kearsley (6-5 300 Sr. OL) out of Aloha, and the NW's top safety Dallin Leavitt (6-0 205 Sr.) of Central Catholic have both committed to BYU as the Cougars have had a field day in Oregon.
Ship has trained at the academy over the last few years and is an awesome kid. Wherever he ends up we look forward to following his career as he one of the top athletes in the entire region.