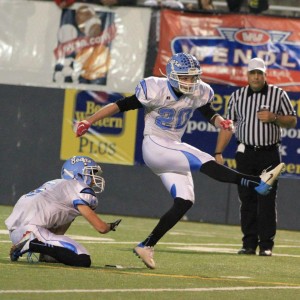 Central Valley (Veradale, Wa.) K Austin Rehkow took a visit to Idaho last weekend and on his trip he became convinced playing for the Vandals was where his future lied and earlier this week he made the decision to commit to the WAC program…
"It was a really good visit," Rehkow told Northwest Elite Index. "I got to see the school and the facilities and they were all really nice and then I got to know the coaches and they were excited to have me there on my visit.
"I committed to them as a punter, but they said they also like me as a kicker too."
In addition to his offer from the Vandals, Rehkow also had a full ride from Eastern Washington and a walk-on offer from Oregon.
As a senior this past season, Rehkow averaged 48 yards per punt and hit on 10 of his 19 attempts with most of his misses from 45 and beyond.
"Most of my misses, like six of them, were from 45 and beyond," Rehkow said. "Three of them were from outside 50, so it wasn't like I was missing short ones."
While he might have missed a few from long-range, he also set a state record by hitting a 67-yarder, yes, you read that right, in a game against Shadle Park to send the game into overtime and an eventual win.
"I hit it really well," Rehkow acknowledged. "It was a really good feeling to see them signal that it was good and to know it helped my team, it was really special."
In addition to setting the state record, the kick was one yard shy of the 17-year national mark.
Rehkow said he is done with the recruiting process and will sign with Idaho on Wednesday, February 6th, the first day high school players can sign their letters-of-intent.