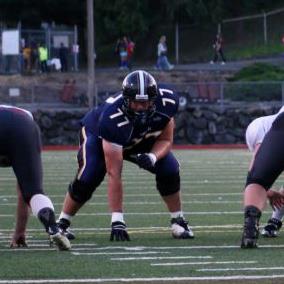 It's been a waiting game for Everett (Wa.) OL Chris Miedema. After a solid senior season, he's been waiting for an offer and he recently got good news when Idaho State came for an in-home visit and informed him that he had an offer…
"It's a huge relief honestly," Miedema told Northwest Elite Index. "I had Wyoming offering me as a preferred walk-on and Washington State has been contacting me a lot recently about possibly walking on there."
Miedema continues, "They even said if certain guys don't commit, that they might even have a scholarship from them, but I can't really wait on something like that so I'm not really sure.
"Northern Colorado is another school that's been recruiting me and I feel like they could offer too, but I'm not really sure right now on that one."
Miedema will visit Idaho State next weekend, February 1st – 3rd, and a decision could be forthcoming shortly after that.
"I'll go over and see how things go," Miedema said. "I'll meet more with the coaches and see what the program and the school have to offer and then I'll hopefully be able to make a decision."
Miedema played tackle for the Seagulls this season on a gimpy leg, something he's been doing for a couple of years now.
"I had an okay season, but I've been playing with a hole in my (left) femur for a couple of years so in the next couple of weeks I'm going to have a surgery to correct that," Miedema said. "I'll have a bone replacement where they take part of a bone and screw it into the hole. It should help me get back to 100% and that will allow me to realize my full-potential."
We will continue to keep track of Miedema over the next two weeks and will update news as it happens.