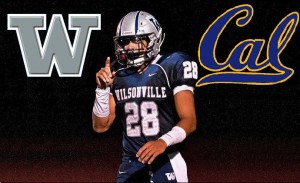 In breaking news that came to us Wednesday night, Johnny Ragin (6-3 215 Sr. LB) of Wilsonville decommitted from BYU and made his intentions known heading to CAL.
Ragin is a kid that we have gotten to know well over the last few seasons, as he has trained at the academy and been a fixture out our events. Johnny picked up offers over the last year from the likes of Oregon St, Nevada, Colorado, BYU, Portland St, and most recently Iowa. When CAL came into play things changed and decisions had to be made.
Johnny says, "After talking everything over and looking at all the facts, my mom and I felt that Cal was the best place for me to be". He continued, "decommitting was difficult, but ultimately I had to go where I felt was best and I left with a really good feeling from Berkeley".
If there was an off season MVP it was easily Ragin. He was selected to the NIKE Opening, won MVP NFTC honors at LB, and had the highest SPARQ score out of 600 kids at the Nike event. He was also a part of NEI-South that traveled with us to Las Vegas for the national 7 on 7 tournament.
Johnny is your typical all american kid, sporting a 4.0 GPA and making good decisions off the field. He says, " Cal is a great place both athletically and academically, and im looking forward to getting down there and going to work". Ragin led the team with 8 sacks, and 50+ tackles earning 1st team all league honors for his Wildcats.
As reported just yesterday teammate Tanner Shipley is now in a similar situation having to decide between BYU and Boise St. Nothing about the recruiting process is easy, but both Ragin and Ship are phenomenal kids and will ultimately make a name for themselves wherever they go.
We wish Johnny continue success in the PAC 12, and will look forward to seeing him play for years to come.