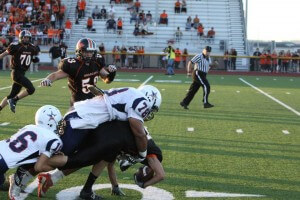 It was an outstanding group of lineman that participated in last weekends WA Elite Event, and we look forward to seeing a bunch of these athletes playing at the next level. There are double digit potential D1 kids in this group and some of the battles speak for themselves.
The elite events are great due to the fact that its the best of the best, and if you are winning your battles against top competition it really says something. Everything is documented via video, and all of the colleges that we work with will be viewing videos such as this as we progress over the off season…
Congrats to all of you on a last weekends elite performances – Jordan Johnson NEI
Marcus Griffin 6-3 280 Jr. Bellevue – NEI's #1 ranked DL for the class of 2014… Should be a double digit offer kid, very athletic for a big man.. Loves the game and is the ultimate team guy. Just a phenomenal kid, 2 time 3A state champion
Thomas Toki 6-1 290 So. Juanita – NEI's #1 ranked DL for the class of 2015.. Absolutely dominant up front. One of the few kids that can get away with being only 6-1 on the D line, due to his overall strength and athleticism.
Reggie Long 6-2 290 Jr. Skyline – Had maybe the best day of any lineman in attendance. Is ridiculously strong and coordinated and really upped his stock last Sunday. 1st team all league kid that projects as at least a D1aa kid, might have to play center
Randin Crecelius 6-5 265 Jr. Cascade – 1st team all league kid that was the breakout performer of the day. We knew who he was coming in, but this weekends performance puts him in an elite category flying up the rankings board. Legit D1 kid
Chandler Streuli 6-3 285 Jr. Enumclaw – You got to love this kid as he lives, eats, and breaths football. He has legit size and strength and an upside that won't quit as he has already received D1 interest. 1st team all league athlete.
AJ Hotchkins 6-0 230 Jr. Tigard (OR) – He won't play D line in college, but the kids a gamer and was a 1st team all league FB/DE and projecting at the D1 level as a fullback or WLB . Hands down the hardest hitter in the entire NW.
Marqueese Royster 6-1 250 Jr. Lakeridge (OR) – Royster ranks as one of the top 5 D lineman in Oregon, with D1/NFL genes all over the place. Double digit sacks last season.. The question becomes what position does he play in college
Drew Springfield 6-3 265 Jr. Eastside Catholic – Drew came out and had a really good day. He is fundamentally sound and is a worker. The EC line is one of the best in the NW on both sides of the ball due to kids like Springfield
JoJo Alkhedairy 6-1 270 Jr. Meadowdale – JoJo is one of the strongest kids in the state, moving people at will and requiring a double team on the interior. He had one of the best days of any lineman in attendance.
Paul Finau 6-2 290 Fr. Juanita – One of the best freshman lineman in the entire region, brother of Jarrett Finau currently a DL at UW… Played varsity ball as a freshman and will be part of special Juanita group.
Miles Lockett 6-0 260 So. Bothell – One of the state's top sophomore lineman that is undersized but extremely athletic and powerful, and will be the Cougars leader up front in the coming years.
Nick Streubel 6-3 280 Jr. Coupeville – 1A football school where Streubel is dominant, blocking for one of the state's best backs in Jake Tumblin. Nick has a bright future.
Spencer Blackburn 6-3 240 Jr. Meridian – Blackburn showed up as kind of an unknown at another 1A and proved he is worthy of being considered one of WA's elite lineman.
Owen Taylor 6-4 275 Jr. Gig Harbor – 2nd team all league kid from last season that put himself on the map. Still has some work to do but is a talented lineman.
Josh Wright 6-1 220 Jr. Skyline – One of the surprises of the day as he fly's off the ball and creates havoc. Had a very good elite event, projects as a LB.
Dylan Ledbetter 6-2 230 So. O'Dea – One of the top Sophomore lineman on either side of the ball. Started as a Sophomore on one of the best teams in the state. Should carry tradition of great lineman to come out of his school.
Odessa Mendoza 6-0 300 Jr. Curtis – Conference D lineman of the year that brings a lot to the table… Had gone somewhat under the radar but is currently being added to the rankings board.
Massen Newton 6-0 260 Fr. Lakeridge – Cousin of Royster that played varsity ball as a freshman… Super talented kid that will be one of the better lineman in Oregon for the 2016 class.
Jordan Kennedy 6-4 190 Jr. Cedar Park Christian – High motor kid that comes off the end VERY hard. Not afraid to mix it up with the bigger guys along the OL.
Darius Riddley 6-0 250 Jr. Curtis – Not as big as Mendoza but a returning starter that moved well and is hungry to get better. Will provide Curtis a much needed counterpart to Mendoza.
Bennett Long 6-1 230 Jr. Newport – 1st team all league DL. Projects as a college backer. One of the fastest rising recruits in Washington. Also a great student with over a 3.5 GPA.
Chris Schlichting 6-5 250 So. Mount Si – Hard working kid with great arm length. Very competitive kid that who protects the #1 2014 QB in WA.
Elliot Welnak 5-11 240 Jr. Skyline – Makes up for size with effort and ability. 2nd team all league kid for back to back state 4A champions.