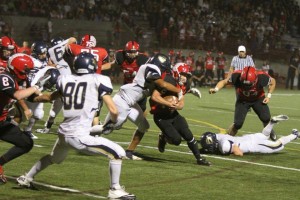 One of the top football players in the state of Oregon for the 2014 class is Sam Bodine (6-2 220 Jr. LB/RB) out of Canby. Our first Portland Elite event confirmed what we already knew, as he may have been the best player in the gym that particular workout. If I was to give an MVP on the day it would have gone to Bodine or Henry Mondeaux (6-5 245 Jr. TE/LB) of Jesuit.
Sam was a TRL 1st team all league LB, and a 1st team all state NEI underclassmen this past season. He is ranked as one of the top 5 linebackers in Oregon, during a special year for the position within the state. Bodine will be the leader of a Cougar group that returns a host of talent and should challenge Lake Oswego for the TRL title.
Sam says, " we have a lot of returning starters on both sides of the ball, with speed and size and we should be able to compete with anyone". He continued, " Just like every team we want to win league and state, and we have high expectations for ourselves going in". Bodine will be the leader of a defense that has skill players everywhere, with one of the biggest problems being getting them all on the field.
Canby has outstanding community support, and Bodine is a model student athlete with high standards both on and of the field. He has a 3.6 GPA with all AP classes and does work within his church whenever possible. He says, " I want to be a good senior leader and be somebody that my teammates can turn to both on the field and in school".
As of right now I have Canby ranked as the state's #7 team coming into 2013, which could obviously change over the next 7 months. Point being the Cougars will be really good and have a chance to make a run. I consider Bodine a legit D1 athlete that has an opportunity to do something special over the next year.
"I will be the hardest worker in the weight room and on the field everyday, and one of my goals is to be the TRL Defensive Player of the Year". He added, " I really want to gain more weight this off season, and get stronger and faster….I want to play college football at the highest level and I understand how much hard work it takes to get there".
More then anything Sam is just a good kid. I think he is one of the best overall players in the northwest regardless of position, and with continued hard work I firmly believe he will attain his goals as he says, " I will do anything and everything I can to make my dreams become reality".
We will keep tabs on Bodine over the off season, and look forward to seeing him at all of our future events.