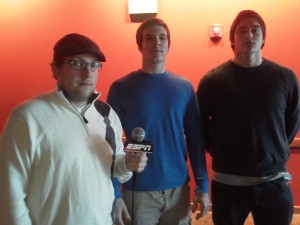 In the end a kid that could have more offers then anyone in the northwest is Henry Mondeaux (6-5 245 Jr. TE/OLB) out of Jesuit in Portland. He is one of the most versatile big men we have seen come out of the region in years, and he just continues to get better.
Mondeaux started as a sophomore and is a two time all league TE, also earning all league honors as an inside linebacker at 6-5. Henry was one of four in state athletes offered by Oregon St a few months back, the others being teammate Joey Alfieri (6-3 220 Jr. LB/FB), Conner Humphreys (6-4 245 Jr. DE) out of Central Catholic, and Tanner Sanders (6-5 200 Jr. ATH) of Crescent Valley.
Henry's overall athletic ability is what separates him from other athletes. Watching him play middle backer you wonder how a kid 6-5 moves so well. His ability to maneuver and just be athletic is eye opening to say the least. One of the most well known analysts in the country from FOX and Scout.Com commented at our elite event on Sunday saying, " I see what you mean, he's has the size and can move and catch extremely well for a big kid"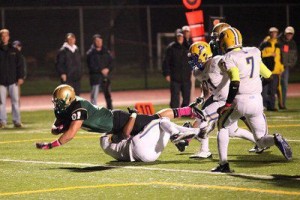 Mondeaux shows off his overall athleticism on the basketball floor, as the Crusaders are again one of the state's best basketball teams and will challenge for another state title. Henry has been attending our elite events and absolutely tearing it up against the state's top competition. More then anything he's a worker and someone that you can tell just wants to be there.
As of right now Jesuit will be the state's #1 ranked team coming into 2013 by NEI as Mondeaux says, " We want to get everyone out to our workouts and in the weight room, and win the Metro title followed by state which we didn't get last year". He continued, "Personally I want to be someone that everyone on the team can look up to, getting faster and more physical on defense while putting on some more muscle…. Ultimately I want to have as many options as possible as to where I can go to college".
I said before if I was going to give an overall MVP covering our first two elite events in Portland, with a majority of the top athletes in the NW, I would go with Mondeaux or Sam Bodine (6-2 220 Jr. LB) of Canby. Both kids have been lights out taking away nothing from all of the other talent in the gym. Henry says, " The elite events have been great for me, as I love getting together with the other top athletes in the northwest….Im looking forward to getting up to Seattle for one of the events up there".
In the end I think Mondeaux will be one of the most sought after TE's in the country, as his upside is through the roof. I could see a majority of the Pac 12's and high end academic institutions offering in the near future, as he is a kid that is a top tier D1 athlete and someone we will be back all day long.