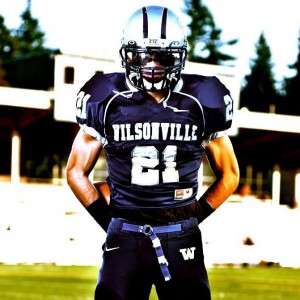 In what has been an exhausting process with lots of twists and turns, Wilsonville all everything athlete Tanner Shipley (6-2 185 Jr. RB/WR) decided on Boise State as his future college home.
Shipley was originally committed to BYU, but has made the transition and is confident in his switch. "I know Boise State is the right fit for me and coach Chris Peterson is truly an amazing coach… He runs his program as well as any in the nation, and focuses on recruiting great character guys on and off the field".
Tanner was the NWOC Offensive Player of the Year after going for over 1800 all purpose yards and 20 Tds, after a phenomenal junior year. He was ranked as the state's #2 WR, but dominated as a running back making him one of the versatile players on the west coast. Oregon St, BYU, Colorado, Nevada, and Wyoming all had made their intentions known and the Broncos won out.
He says " BYU has been great and I respect them so much but the fit at Boise St was perfect for me". BYU has set up shop here in the northwest as of late with big scores in Brayden Kearsley, Dallin Leavitt, and QB Billy Green of Kings HS (WA). They have also lost a few kids with teammates Johnny Ragin and Ship, but just like anything else you win some and you lose some.
Overall both BYU and Boise State have done a phenomenal job recruiting here in the northwest, and we look forward to covering Shipley on the blue turf in the coming years.