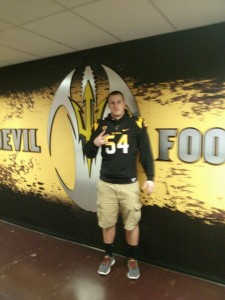 A day after Connor Humphreys (6-4 245 Jr. DE) picked apart everybody at our Oregon Elite Event, he received an offer from Arizona St University. Humphreys returned Saturday evening from their junior day, and showed up ready to go at Oregon Elite on Sunday. This is his 2nd Pac 12 offer and 4th overall, after Oregon St offered a few months back.
Connor is a kid that we have gotten to know well as he has trained at the academy for the last few seasons, and is currently ranked the #1 Jr. DE in Oregon. He says, "Coach Lorig stopped by the school today and officially offered". He continued, " I went to their junior day in Tempe this weekend, and really liked the facilities and everything I heard about the program".
Humphreys will be a double digit offer athlete, and is equally impressive in the classroom with a 3.75 GPA at the always tough private school. " They said I had a chance to come in there and start as a true freshman, and I'm really excited about the opportunity… they are definitely in my top 3″. There isn't a lineman in the state that is going to stop him one on one, so CC has the advantage every week knowing that he requires a consistent double team.
The best thing about Connor is his work ethic. The kid has a non stop motor on the field, but is wiling to grind for whatever he achieves in life. Just this week he took his finals, met with us at NEI and Mason Kelley of ESPN, went to work, flew to Arizona State for junior day, and then got back in time to attend our Oregon Elite Event… Wow!
Connor is a phenomenal athlete and an even better kid, and we look forward to working with him over the off season and following his career for years to come.