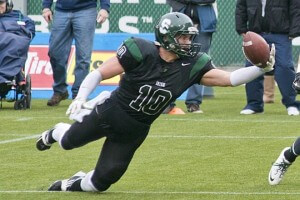 August 21, 2011 NEI was launched and the first article ever put on the site was that of Connor Strahm (6-2 215 Sr. ATH) out of Sheldon High School. Over the last three years Strahm has broken countless records, and finished his career in storybook fashion winning the 2012 6A state title.
On Monday night Connor called and gave his commitment to the Montana Grizzlies, as I think I could hear people celebrating in Missoula. Strahm earned Offensive and Defensive Player of the Year Honors in the SWC, and was the state of Oregon's Defensive Player of the Year. He led his Irish to a (38-2) record in three varsity seasons, with two state title appearances and the 2012 state championship.
He is the most dominant athlete I have ever seen at the high school level matching Thomas Tyner and Colt Lyerla like performances. He has accumulated 3, 892 rushing and receiving yards in his career, to go along with 64 total touchdowns. His numbers speak to his career dominance and all that the team has accomplished in the last three years.
As we have said time and time again Sheldon is one of the classiest and most successful programs in the country. What Lane and Marty Johnson have done at the school is special on so many different levels. Strahm is a kid that exemplifies all of those unique characteristics that make the Irish one of the most respected programs in America.
Connor says, "I committed cause I went on a visit there and fell in love…the tradition and the campus is amazing and the coaches really fit what me and my parents had in mind". He continued, "It's impossible to beat the Sheldon coaches in high school and the Montana coaches really reminded me of them".
Strahm is the ultimate competitor and has continuously beat anyone and everyone that got in his way. With Connor its not about having the best 40 time, its about a kid that has more heart then you can fit in most humans and is just better than everyone else.
He says, "Goals for next season will be to come in and do anything I can to help, whether its on offense, defense, or special teams… As of right now they have me as a outside backer/safety".
Referencing his Irish career he said, " I think I can say something that very few people can in that I wouldn't change a thing about it… I gave everything I had every game and that's something that Im very proud of, there isn't a better program in the state and I feel very confident saying that".
We feel fortunate to be able to help athletes whether its on the football field or in life. Its something very rewarding and its been a blessing getting to work with Strahm and the entire Sheldon program. Connor is someone I consider a friend, and more importantly a kid that I think all athletes young and old should look up to.
Strahm was a fixture at all of our events over the last few years and in closing had some kind words I want to share that really hit home…
"I wanted to thank you, TB, and everyone else at NEI… I was extremely lucky to go through high school when you guys started, and the kids that come after me won't know any different but you have helped so many people… In 4 years maybe I can come back and do what I can to help you guys for all that you have done for me"
He added, "As important as the football part has been, the friends I've made at your camps and combines along with the relationship my family has made with you is special… I know my brother is excited to experience some of the same things".
That right there makes everything worth it. I can't wait to book my ticket to Missoula and watch one of the greatest players to ever come through Oregon.