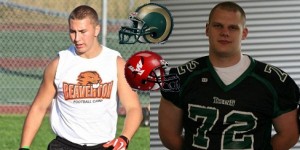 In what was has been a long and somewhat grueling process two of Oregon's top senior athletes made their intentions know in the last 24 hours. NEI's top ranked LB/DE Evan Colorito (6-4 235 Sr. LB/DE) out of Beaverton committed to Colorado St, and West Salem's Matt Sommer (6-5 300 Sr. DL) did the same committing to Eastern Washington.
Colorito earned Metro League Player of the Year honors in 2012 after helping the Beavers to a (6-5) record. Evan had offers from Colorado, Montana, Portland St, and Nevada but things changed a lot as the recruiting process unfolded. I will go on record as saying that Evan is one of the most underrated players in the country, and that the CSU staff just pulled off one of the biggest steals in a very long time.
Evan is the son of Dr. Tony Colorito who was an All American at USC, before going on to multiple Super Bowls with the Denver Broncos. His upside is through the roof as his length and overall athleticism speak to his potential. With the proper routine and instruction at the next level Colorito could end up being an absolute monster. I think multiple Pac 12 schools missed on him, and I look forward to Evan dominating competition out in Fort Collins.
Speaking to Evan late Monday night he said, " I just felt it was time and I decided to make my decision…Im really happy about everything and I am excited to get out there and go to work". We wish Evan nothing but continued success, as he has an awesome family support system and a ridiculously bright future.
Another NEI favorite in Sommer gave the Eagles of Eastern Washington a reason to celebrate on Tuesday. The senior big man was a three year starter for West Salem, and had his way with CVC competition for the better part of the last two seasons. Matt has played for some of the best coaches in the northwest, under the leadership of NEI Oregon Coach of the year Shawn Stanley and standout line coach Mark Walsh.
Matt is one of the nicest kids you will ever meet even though he looks like a part time bouncer. He will have an opportunity to go in and play right away for an Eastern Washington team that is only a few years removed from a national title. He says, " Im so happy to go to a great program, and both me and my parents felt very comfortable with the decision". He continued, " Coach Stanley was a big backer of EWU and im extremely excited to be an Eagle".
Sommer is a kid that we have gotten to know well over the last few seasons, and I couldn't be happier for the big man from down in the Valley.