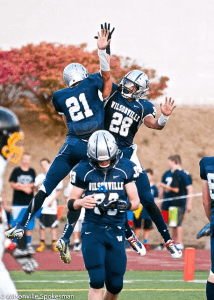 In what has been a crazy process to say the least one of the top recruits in the northwest, Johnny Ragin (6-3 215 Sr. LB) of Wilsonville, was recently offered by Oregon.
The CAL commit had Don Pellum and new Head Coach Mark Helfrich come into his home on Tuesday making the offer official. Ragin had been offered by a host of top schools over the last year, and has made adjustments accordingly as things progressed. He had originally committed to BYU but respectfully made the transition and decided on CAL.
Johnny is a 4.0 student that has been through a whirlwind of activity in the last few weeks and says, " When I first committed I didn't have the intention of decommitting, but as the recruiting process furthered and I visited CAL it felt like the best overall fit for me". He continued, "When its a matter of a place that you will be for the next 4-5 years, you want to make sure you choose correctly and that's exactly what my focus has been".
As signing day draws near a lot of things happen in this process. We have gotten to know Ragin well over the last couple years, as he has trained at the academy and has been a standout student athlete on a national level. One individual had the audacity to call him a "Tripleflipper" after not even speaking with him, assuming certain things.
Johnny and his mom will visit the University of Oregon with an open mind and hear what they have to say, but feels very good about his commitment to CAL. "Its always exciting to have options and I respect all of the schools that have recruited me".
We have talked time and time again about Johnny's off season accolades, and all that he accomplished racking up almost every award given on the camp circuit. More then that schools love the fact that he will be a leader on the field and in the community. We wish Ragin nothing but continued success and will keep you updated as signing day nears.