Highlight Videos: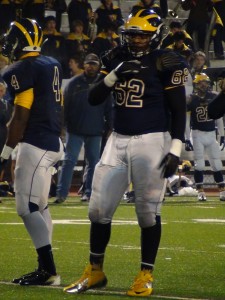 We all know how good Bellevue Football is on a national level, and everyone in the Pacific Northwest can be proud to have such a dominant program within our region. The Wolverines D from this past season could be one of the only teams to ever have 11 D1 prospects on the same side of the ball.
Leading up front were two juniors that absolutely wreaked havoc on almost every play, in #1 ranked DL Marcus Griffin (6-3 285 Jr.) and #2 ranked DL Shane Bowman (6-4 240 Jr.) who just happen to be like brothers.
The thing that separates both of these athletes is their desire to get better. Neither kid is content with their top ranking or string of consecutive state championships. Shane says, " Marcus and I push each other and enjoy working out together and preparing for our future". He continued, "Its important to surround yourself with winners both in life and on the football field, and guys like Marcus and Budda Baker are a couple of those people".
Bowman and Griffin are both honor roll students and take a lot of pride in being well rounded individuals. As good as Marcus is as an athlete his personality makes him an even bigger superstar. He says, " I want to be the best leader I can and help the younger guys while setting the tone with leadership…without that we will not be able to reach our goals".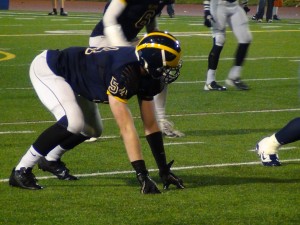 It's rare to have the state's top two D lineman on the same team, but it goes even further then that." Shane is like family and a brother to me, we have a lot of things in common besides football and we have really considered the possibility of us playing together in college.
Both Griffin and Bowman will be double digit D1 offer guys when all is said and done, and universities should know what type of package they are getting if that was to be the case. Both athletes are phenomenal kids first and foremost, and will be leaders in life regardless of what they do on the field.
Its these type of athletes that make what Coach Butch Goncharoff and the Bellevue community do so impressive. The domination on the football field leaves you shaking your head, but the character and conduct of his athletes is even more remarkable. As sick of an athlete that Budda Baker is, the first thing you always hear about him is what a great kid he is. The same goes for Griffin and Bowman.
Speaking on Wolverine Football Marcus says, "Bellevue football is great, they accepted me into their family my sophomore year and ever since it has been non stop excitement…I'm looking forward to being an alum and coming back to visit the school, as my experiences are something I will tell my grand kids about".
Referencing recruiting and his training Shane says, " I have heard from Arizona State, Oregon State, Washington State, Georgia Tech, and Missouri, and I'm looking forward to getting out to the elite events with Marcus and the other top athletes". Marcus echoed some of the same thoughts with Michigan, Arizona State, and Colorado State all schools being mentioned, with his goals being pretty straight forward.
"The goals for next year are another state championship and getting that 6-peat". Griffin continued, "I don't come up with personal goals for myself except in the weight room where I would like to squat 700 pounds and be the best pass rusher on the west coast…. When all of us seniors come together we will put a list of team goals together and go from there".
The Wolverines are (91-5) since 2006 and were arguably the best team in America this past season. As a fan of northwest football its hard to put into words what this program does for the region. Coach Goncharoff and his athletes are a class act, and kids like Griffin and Bowman only help make that much more clear.