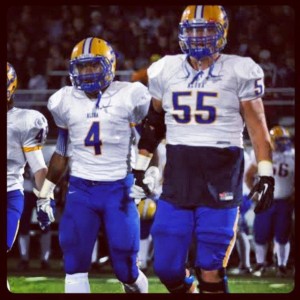 Its hard to put into words what both of these kids have meant to football within Oregon. BYU came up big as both Kearsley and Leavitt rank as the #1 prospect at their position in the entire region. Brayden Kearsley is hands down the Pacific Northwest's top lineman and one of the best in the country, with Dallin Leavitt being the region's top safety.
Both kids have a mean streak that combos their talents, and allowed them to dominate most high school competition. Kearsley pancaked his way through most ball games and Leavitt laid hat on a pretty consistent basis, but it was their play against elite competition that made people stand up and take notice.
Last spring Leavitt traveled with us to Vegas for the national 7 on 7 tourney where he locked up some high profile kids out of LA, Oakland, and Texas. He showed no fear and brought his game to them instead of the other way around. He followed this up at Central Catholic earning Defensive Player of the Year honors in the Mt Hood, helping the Rams D allow the fewest points in the state during the regular season.
Kearsley traveled to the Semper Fi All American Game in Southern California, where he went against one of the country's top DT's headed to Alabama. He was maybe the best O lineman in attendance and showed flashes of brilliance on a national TV. More then any other kid in the region, Kearsley has the best shot of having a lengthy pro career.
Both of these kids committed early in the recruiting process, and went somewhat different routes as Kearsley entertained other options much more freely. Referencing the two of them going to school together Brayden says, " Dallin and I have been best friends since we were in the 3rd grade and have always wanted to play ball together at BYU". He continued, "Dreams really do become reality as we have pushed each other to get better and will always be there for one another".
Dallin echoed some of the same thoughts,"Going to school with Bray is huge, we have been talking about it since we were little kids… I love that dude like family, he is my brother which is why we won't live together but we will still hang out everyday".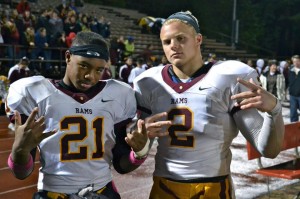 Leavitt will be there his freshman season and then head out on his two year mission, while Kearsley could very well start as a freshman and will remain at the school to play all the way through. Both athletes come from a football family where they learned a lot growing up "in house".
Jared Leavitt (Dallin's father) was a standout at BYU on some of the most successful teams in school history, that featured Heisman trophy winner Ty Detmer. Dallin says, " My dad played at BYU in the late eighties and early nineties and everyone I talked to said he was a FREAK…I was told that he was the meanest, nastiest, strongest, and most aggressive player on the field and still he worked harder then anyone else".
He added, "His junior year they played #1 Miami and he had something like 12 tackles, and 3 tackles for loss….Everything that my dad has ever done he's worked for and nothing has ever been handed to him.. if it wasn't for an injury he would have played in the league".
Dallin shares many of those same traits as his junkyard dog mentality speaks to his overall game. He's definitely a kid that you want on your side, otherwise you better keep your head on a swivel.
Brayden was in a similar situation having awesome family support with his dad being a phenomenal line coach. He says, "I want to thank my family and friends for being so supportive through this process, and most importantly I want to thank my pops for teaching me to play the way I do today".
Regarding playing as a true freshman Brayden says, "I want to be a freshman All American next season and reach a BCS bowl, ultimately being drafted and playing in the NFL".
Both of these kids have the world at their hands, and we feel fortunate at NEI and Barton Football to have gotten to know Brayden/Dallin and their families. Its been very rewarding on multiple levels, as both of these kids will go on to successful college careers and what could be much more. Its these type of relationships that make what we do so unique, and we look forward to following Brayden and Dallin's career moving forward.