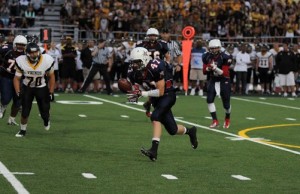 With LOI day fast approaching, last minute scholarship offers are happening left and right. With a few smaller schools talking, one LB still looking for his big break is Juanita's Harley French (6-1 210).
A two time All-Kingco performer, French has led the Rebels in tackles each of the past two seasons. French finished with 55 total tackles, 10 tackles for a loss and chipped in offensively with 9 receptions, 220 yards and a TD from his TE spot.
"Harley is an all-around football player that uses his versatility to his advantage. He can catch, block, tackle and cover," Juanita coach Shaun Tarantola said. "His biggest strength is his overall instincts on defense which helps him play fast."
Coach Tarantola couldn't be more right about his instincts. Watching French's video you will see a very smart football player that is always in the right spot doing all the right things. The term "Nose for the ball" was coined for guys like Harley.
"I've been playing football since I was in 3rd grade. Its always been my favorite thing to do and I have always loved watching and playing," French said. "Its been my dream to play football in college and overall get the best education I can."
Right now French has been speaking with mostly D2 and has and offer from a D3 school. "I got an offer from Marryville College in Tennessee and Dakota State wants me to take a visit". French continues, "I've been talking to Central Washington, and Western Oregon just contacted my coach about me."
Starting with his freshman team, French has almost always been a captain. Speaking to NEI coach Tarantola said, "Harley was respected by his teammates and was voted team captain. I think Harley will be a great addition to any school that gives him the opportunity to play for them".
The Rebels were very young this year, but with leadership from players like French, Trayon McNairy and Kendrick Murphy, they were able to make the playoffs out of the always tough Kingco 3A.
Leadership and instincts can't be taught. French has more than enough of both and the will to be the best. He will succeed at whichever school he chooses.