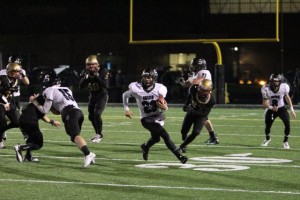 As the season progressed Yadie Dunmore(5-11 175 Jr. ATH) just got better and better. He made the transfer from 4A Newport to 6A Sheldon this past season, and didn't waste anytime letting everyone know what he was all about.
Yadie is the brother of all everything athlete Oshay Dunmore currently playing DB at Oregon, while also being considered one of the nation's top decathletes. He is one of the state's best hoopers, and has helped the Irish basketball team to a (14-5) record thus far, winning seven straight games.
Dunmore torched the state as a sophomore at the 4A level going for over 1400 all purpose yards and 16 Tds, with his brother Oshay just making people look silly dropping 26 Touchdowns. When Oshay started playing ball at Oregon, Yadie and the family made the move as well and the rest is history.
Yadie has some of that "It" factor that you can't really describe, you just have. The ball was spread around among a bunch of talented skill players on the Irish roster, that won the 2012 state title going (14-0). He accumulated 527 rushing and receiving yards and 8 total Tds, and was one of the team leaders in both categories.
The younger Dunmore might not end up being as tall as his older brother, but he's a baller and has a legit shot to get his school paid for in football and basketball. I think it took Yadie a few games to get adjusted to 6A speed versus 4A ball, but Dunmore plays better against top competition.
Next season he will be a key factor in what the Irish get done offensively, as he is a threat to take it to the house any time he gets the ball in his hands. You will rarely see him leave the field, as he will be playing on both sides of the football and most likely returning some kicks.
Yadie says, "Everyone in Eugene has been great making it a pretty easy transition". Asking him about what he wants to pursue in college he says, "Im going to keep try and keep my options open and earn a scholarship…I love basketball but I also have to do what is best for my future, and I will be doing more football stuff over the spring and summer to prepare".
Kenyatta "Yadie" traveled with us up to Seattle last year for the Tom Lemming Photo Shoot with the region's top athletes, and he was also just recently invited to be a part of our NEI-South team that will travel with us to Las Vegas in a month. He is one of the most likeable kids you are ever going to meet, and his upside is off the charts as his brother is one of the better athletes in the country.
I project Yadie to be a D1 caliber kid with continued progression. He will have to grind in the weight room and with his workouts if he doesn't have Oshay's 6-3 size, but you can't teach a lot of god given skill. We wish Yadie continued success, and look forward to seeing him take care of business over the next year.