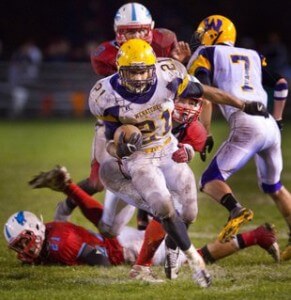 One of the region's top overall players added three more offers to his list of options this past week, as Isaiah Brandt-Sims (6-0 180 Jr. ATH) out of Wenatchee was offered by Arizona State, Washington, and Colorado State.
The Sun Devils and the Rams have made a big splash in the northwest as of late offering some of Oregon and Washington's premier kids, and Washington couldn't pass up offering an in state athlete this talented. Brandt-Sims recently set the 60 Meter Indoor National record for the year with a time of 6.70.
His speed compliments his incredible skills on the football field, after earning Big 9 Player of the Year honors this past season. Isaiah has gone for over 3,400 all purpose yards and 42 Td's over the last two seasons, and now holds offers from five legit D1's including SMU and Wyoming.
The best thing about Brandt-Sims as we have said time and time again is that he brings the entire package to the table. He's a 3.9 student, taking multiple AP classes and is focused on continuously raising his accumulative, as he just earned a 4.0 this past semester. Isaiah says, "Its all been really exciting and I'm appreciative to everyone that has offered me, Harvard recently contacted me and I think might offer as well".
Brandt-Sims loves the high end academic schools, but is going to keep all of his options open over the next year. He was recently invited once again to be a part of our NEI all star team that we take to Vegas every year for the national 7 on 7 tournament. In 2012 he was the only underclassmen in Oregon or Washington that traveled with us, and was arguably the most impressive player on either team.
Isaiah won the big school 100 and 200 meter state track titles as a freshman and as a sophomore, which is almost unheard of anywhere in the country. The kid absolutely flies and can play the slot or be the featured back. Wenatchee brings back a host of talent next season, and they should very well be a Top 10 team state wide to start the season.
We can't say enough good things about Isaiah Brandt-Sims, as he will end up being a 20+ offer kid with elite speed and smarts. More to come on the talented junior as the off season progresses.