Spencer Blackburn Highlights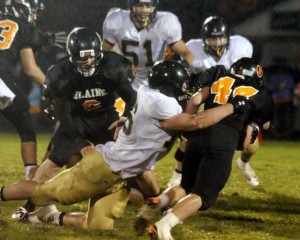 Everyday I get emails asking me to review a players film. Most of the time it is a player I already know just asking for advice, but every now and then I get something special. About a month ago I got a real gem when Meridian lineman Spencer Blackburn's (6-3 235, Jr.) video was left on my internet porch.
Meridian is a school just north of Bellingham on your way to Lynden. Since 1974 the Trojans have been coached by the legendary Bob Ames. In 2011 Ames was inducted into the Washington State Coaches Hall of Fame and knows a thing or two about football.
"Spencer is one of only 2 players to start on the offensive line for us as a freshman. He played on both sides of the ball that year and broke his toe in the state semi finals," Ames said. "He has played down, standing up on the edge and inside LB. This year he had to play ILB with out much preparation."
Ames continues, "By mid season we were able to play him down and on the edge where he was very effective. By the end of the season no one ran at him. Teams would call time out to switch plays to the other side."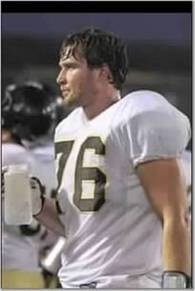 Having just finished his junior season, Blackburn is already a 2-time all-league selection on both sides of the ball. 2012 also saw Blackburn recognized as a 2nd team AP 1A All-State for his work on defense.
This was the third year he has lettered in football and will become a 3 year letterman in basketball very soon. Last year Blackburn also competed in the state track and field meet where he finished 7th in javelin. He was the only sophomore to finish in the top 15 at his level.
Spencer is a kid that can't get enough football. He attends many camps throughout the offseason and is consistently voted as one of the top attendees. Two weeks in a row we saw Spencer at our Washington Elite Event in Bothell. That is three hours round trip for a two hour workout, but he will not let anything get in his way.
At first look, Blackburn is impressive. He has the body to add weight and the overall athleticism to play multiple positions. According to coach Ames, Blackburn has been invited to Junior Day at Washington State.
Blackburn is also a very good student. He is routinely above a 3.0 GPA while taking college level advanced placement courses.
"He is a great kid, smart, uses his hands and plays aggressively physical," said coach Ames. "Above all, he is an awesome kid. He typifies the type of kid we build our program around, only a lot bigger."
At the end of the day, Blackburn is one of those kids you can't help but root for. He come from a very supportive family that will do anything to help him realize his dream. I really can't say enough great things about Spencer and look forward to watching him progress over the next year as he works towards college.