Jaray Kindell Highlights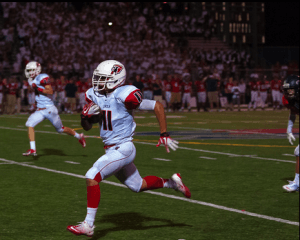 2012 was a tough season for the Lincoln Cardinals (2-8), although their record was somewhat deceiving. They were in almost every game, and had one of the state leaders in passing yards in senior QB John Williams.
The Cardinals beat a Sunset team that almost defeated the likes of Jesuit and Aloha, so their record wasn't an indication of the teams overall skill level. One specific bright spot for the typical PIL power was the play of junior athlete Jaray Kindell (6-0 180 WR/DB). He showed off unique route running ability, and ranks as one of the top 10 WR's for the class of 2014.
Kindell caught 32 passes for 685 yards and 7 Tds, averaging 21.4 yards per catch in what amounted to be a very impressive year. He also held his own defensively making 25 tackles, with 2 Ints, and 2 forced fumbles. Jaray is a kid that comes from good bloodlines as his brother Jaleel was a D1aa athlete, winning a state title back in the day back at Tigard.
Jaleel is a phenomenal WR coach and has been an established leader with us at the Barton Football Academy, currently coaching at Lincoln. Jaray has learned a lot from his older brother and has the potential to do some big things his senior season.
The Cardinals will be looking to get back on track in 2013 with the likes of talented skill player Nate Ostmo (6-1 175 So.) and the region's top backer in Lopeti Aisea (6-0 255 So. LB). Lineman Tevita Pulu (6-2 300 So.) is another kid that will get in the mix, and is one of the better sophomores in the state. Jaray says, " We want to beat Grant, win league and have a much better record then we did last year while making some noise within the state". He continued, " Personally I would just like to stay healthy and put myself in a position to earn a college scholarship".
We have seen the Cardinals make some deep runs in the playoffs over the last decade and the goal is to get back there again. Players such as Jaray will be key in their attempt to get back to the post season, as they will need some clutch performances from him on both sides of the ball. We wish the young Kindell continued success as he will be a legit college prospect over the next year.