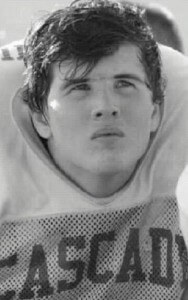 Today we released our updated 2014 offensive line rankings for the state of Washington, and the kid that has made the biggest jump up the charts is Randin Crecelius (6-5 280 Jr. OL/DL) of Cascade HS in Everett. Two weeks ago he showed up at our Elite Event with the other top athletes from around the region, and had maybe the top performance of any lineman in attendance.
Crecelius was a 1st team all league kid on both sides of the ball in 2012 that we were well aware of, but it was at the event in Bothell where he showed that he was in an elite category. Randin has legit D1 size and coordination and is flying up the charts as fast as any player in the state.
Anyone watching the film from the event a few weeks back see's a kid that knows how to maneuver his big frame, and at the same time stay athletic and versatile on both sides of the ball. Crecelius projects as more of an O lineman, but can get the job done on the defensive side of the ball as well.
Cascade was fresh off back to back (0-10) seasons, before new head coach Joe Cronin stepped in and started to put some pieces in place. The kids out of Everett have done a good job of believing and buying into the new system that coach Cronin has implemented. Randin says, " I feel like we had much better drive as a team this past season, and that we were disciplined and focused as the tone was set early in the year by the coaches".
Any team dropping 20+ straight games has to completely stop and reevaluate. The Bruins did just that and ended up (5-5) in what amounted to a very successful 2012 season. " Our goals this next year include making the playoffs for the first team in the last 3 seasons, and personally I would like to earn first team all league honors on both sides of the ball again", Crecelius said.
Randin comes from a football family where he has been playing since he was just a pup. His father Michael helped NFL legend Sam Adams start the AYFL (Arena Youth Football League) which has been a rousing success. This guidance has helped bolster a kid who already has god given size and athletic ability, and is considered one of the regions top line recruits.
The elite events have been amazing because they allow the top athletes to compete against one another. Those that do well against other top kids from around the northwest, only help us to justify the athletes initial projections. Getting film in front of these college coaches when its just the best of the best can be a game changer.
Props to Coach Cronin and his staff on the remarkable turnaround. You should see Cascade be a team that just continues to get better under the leadership of kids such as Crecelius, and all everything athlete KJ Brady. Its been good to see the development of such a talented lineman, and we will be keeping tabs on all of his progress moving forward.